Becoming the Safest Car Factory in the World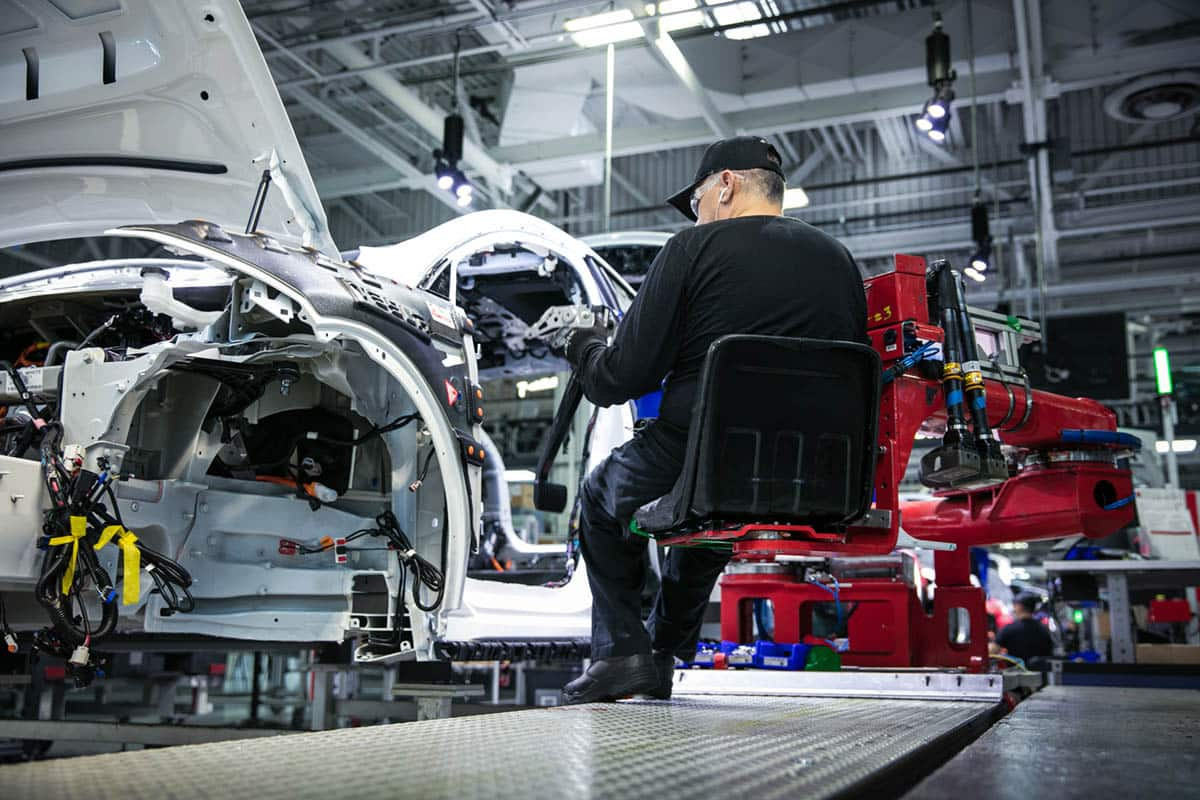 When I recently joined Tesla to oversee employee health and safety, I was asked to take a fresh look at every aspect of how we protect our workforce and ensure a safe working environment. I've been focused on workplace safety for over 25 years, and I've learned that most issues can be solved by listening to employees, using common sense, being proactive, and ensuring there is a culture that values safety. Since I started, I've been pleased to see that much of this work is already happening, and although we are not perfect, we're taking a number of other steps to achieve our goal of having the safest car factory in the world. Here's what we're focused on:
Learning and Being Proactive
We're taking a proactive approach to safety, which means everything from focusing on ergonomics and having the right safety equipment and controls, to ensuring everyone is constantly thinking about the hazards that can creep into everyday work and how to mitigate them.
This means working with employees to proactively make safety improvements by understanding how work is actually being performed. For example, workers use a zero-gravity ergonomic chair to install parts in the Model 3. Recently, while watching it in action, an employee had the idea to add a safety device to the chair to ensure no one could walk behind it and become injured while in use. We listened and implemented this feedback quickly. This is just one example of how Tesla is making improvements by constantly soliciting feedback from employees, and learning and watching how employees do their work – even when an injury or near miss does not occur. When you add up small proactive measures like this across a workforce of more than 10,000 people in the Fremont Factory alone, it has a significant impact.
Measuring Safety
The traditional workplace safety metric is Total Recordable Incident Rate (TRIR). Based on the data through the end of the year, Tesla's 2017 recordable incident rate at the Fremont Factory has improved nearly 25% percent from 2016 and is now equivalent to the most recent published industry average. This is obviously still not where we want to be, but I'm extremely confident that we will be below industry average in 2018. When I look closely at our 2017 data, a few things stand out.
First, nearly two-thirds of Tesla's recordable incidents involve ergonomic issues caused by repetitive tasks. This is why Model 3 was designed with ergonomics in mind and why our incident rate will drop significantly as we ramp Model 3 production and continue to introduce pre-emptive measures.
Second, Tesla has significantly improved safety in a very short period of time. While Tesla only started building its own cars in volume just over five years ago, it has achieved industry-average safety and is on a short path towards safety that is far better than that. Between 2016 and 2017 alone, while Tesla's vehicle production increased 20%, both our rate of injuries and the average severity of injuries declined significantly.
Third, as we continue to improve, it is worth noting that safety at the Fremont Factory is already light years better than when the factory was operated as NUMMI before it was closed down in 2010. In the 2000s, NUMMI had a TRIR as high as 19.19, with an average TRIR of 12.6 in its last 7 full years of operations. In every one of those years, NUMMI's TRIR was worse than the industry, and on average in those years, it was 33% worse.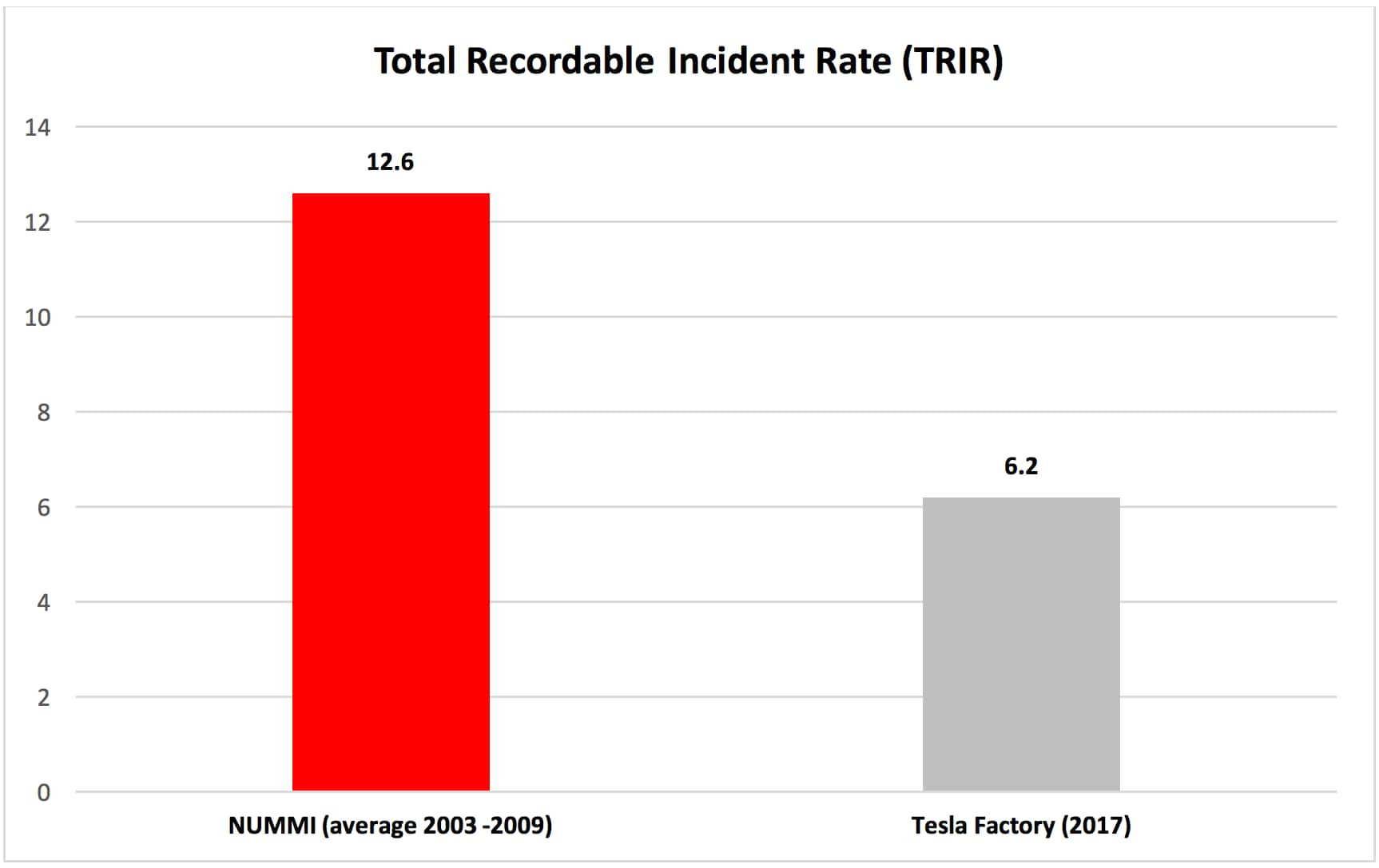 Helping Our Workforce When Injuries Do Occur
When injuries do happen, we must make sure we're taking good care of our people, which is why we've taken a major step forward with our workplace injury Return to Work program.
When an employee is injured at Tesla and unable to perform their normal duties, work restrictions are put in place. In our previous program, when the injured worker was not able to continue working in their regular department, they were assigned to a less demanding job to help accommodate their injury so they can recover. In that situation, the employee was paid the wage that was associated with that new job and they could collect disability or workers compensation payments through our insurance provider to help fill the gap. This is typical across the industry, but not good enough.
In our new program, even an injured employee who comes back to work in a less demanding role will have their pay remain the same. And if Tesla is unable to accommodate an injured employee within the company, we're now temporarily placing them with non-profits and local organizations like YMCA, libraries or food pantries where they can help the community and receive their regular compensation.
The Safest Cars – For Customers and Employees
Finally, we're continuing to improve our production processes, and we've made significant strides since the days of ramping production of Model X, which wasn't designed for ease of manufacturing. While we continue to hire and grow our workforce, the number of labor hours needed to complete a vehicle has decreased 33% since early 2016. Previously, it took three shifts with considerable overtime to produce Model S and Model X. Now, even with production of those vehicles having increased in 2017 to 100,000, it can be done with only two shifts and minimal overtime.
We've also taken our learnings from Model S and Model X and applied them to those working on Model 3. Tesla's ergonomics team was heavily involved in the development of Model 3, for example, using a virtual reality program to study the exact movements that would be used when building the car. This massively improved ergonomics on the Model 3 assembly line by reducing potential stresses and strains – even before production started. This has already had a major positive impact and will be seen more broadly as we continue to ramp Model 3 production.
And with Tesla's focus on continuous improvement, we've got more planned in the months ahead. We recently opened a new training center where all production employees learn the basics of manufacturing, the importance of ergonomics, and how to do their jobs safely – all before ever stepping on the production line. We're hiring a new medical director to oversee our expanded 24/7 in-house medical center, and we're implementing an early intervention program with athletic trainers who will work proactively with employees on the line to address aches and pains before they become injuries. We're also now conducting twice-weekly audits in key departments and will be implementing an automated system to ensure that employees are being properly rotated in order to reduce the strain that can come from doing the same repetitive motions.
Before I joined Tesla, I would have thought it was a very bold claim for a company to say it wants to have the safest factories in the world. Now that I'm here and have observed the exceptional team, met first-hand many of our dedicated employees, and seen the great work being done, I believe that goal is attainable.