Cross Country Rally: Across the Finish Line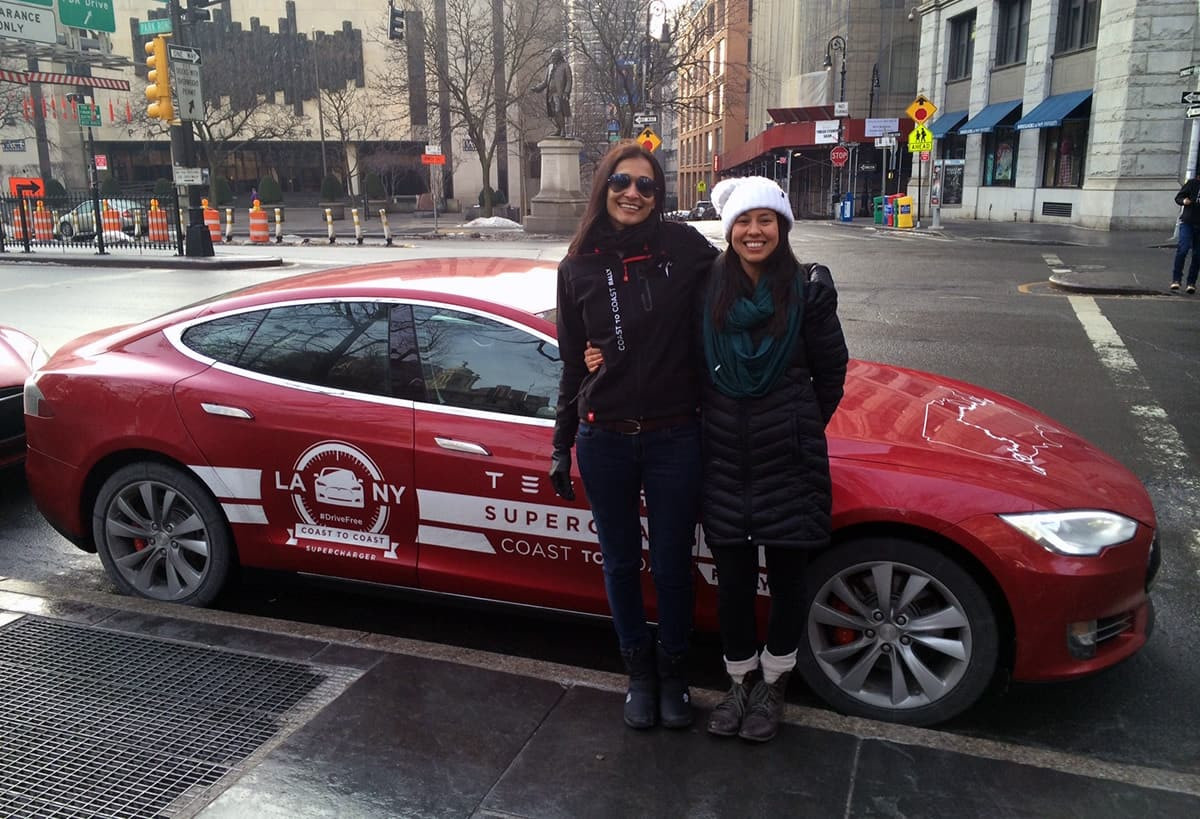 At 7:30am today, two Tesla Model S sedans rolled quietly to a stop outside New York's City Hall to set a record speed time for an electric vehicle crossing the United States. The team had just driven the two cars across the U.S. while relying only on Superchargers for energy. Not only did the Cross Country Rally team manage the trip from Los Angeles to New York City in just 76 and a half hours, it also recorded the lowest charge time for an electric vehicle traveling across the country – a feat that is now being assessed for recognition as a GUINNESS WORLD RECORDS achievement.
After three days of enduring blizzards, a blinding sand storm, freezing temperatures, and driving rain, the Cross Country Rally came to its conclusion on a surprisingly mild New York morning. The crew of 15 drivers, many of whom had seldom slept over the past few days, was treated to the sight of Manhattan's skyscrapers slowly emerging through the fog as the two Model S sedans crossed the Brooklyn Bridge. The cars were driven over the finish line by Tesla staffers Sara Eslinger and Jalpa Patel. Tesla CTO JB Straubel was on board for the final leg from Newark, Delaware, to New York City, where the team was greeted by CEO Elon Musk after crossing the finish line.
Superchargers, which are free to use for Model S owners, are situated in more than 85 locations worldwide, with many more due to come online in the next couple of years. Aside from not costing users a cent, Superchargers are also faster than regular charging: they replenish half a charge in as little as 20 minutes. Father-daughter combination John and Jill Glenney were quick to claim the mantle of "first electric car drive across America using only Superchargers," completing the cross country drive last week as Tesla energized the final stations along the route.
Throughout the journey, Tesla's rally team was privileged to meet fans from around the country at Superchargers in Worthington, MN, Macedonia, OH, and Newark, DE, among others. These fans brought firm handshakes, warm smiles, hot coffee, and a fierce pride in their vehicles. The team reciprocated by handing out T-shirts and mingling with each crowd. The Tesla team was comprised of Tesla employees who were directly involved with the construction, operation, and deployment of the Superchargers – a rapidly expanding network that is a crucial part of the company's mission to accelerate the transition to sustainable transportation.
Trip meter per car: 3,464.5 miles
Total energy: 1,197.8 kWh