First Across the US by Supercharger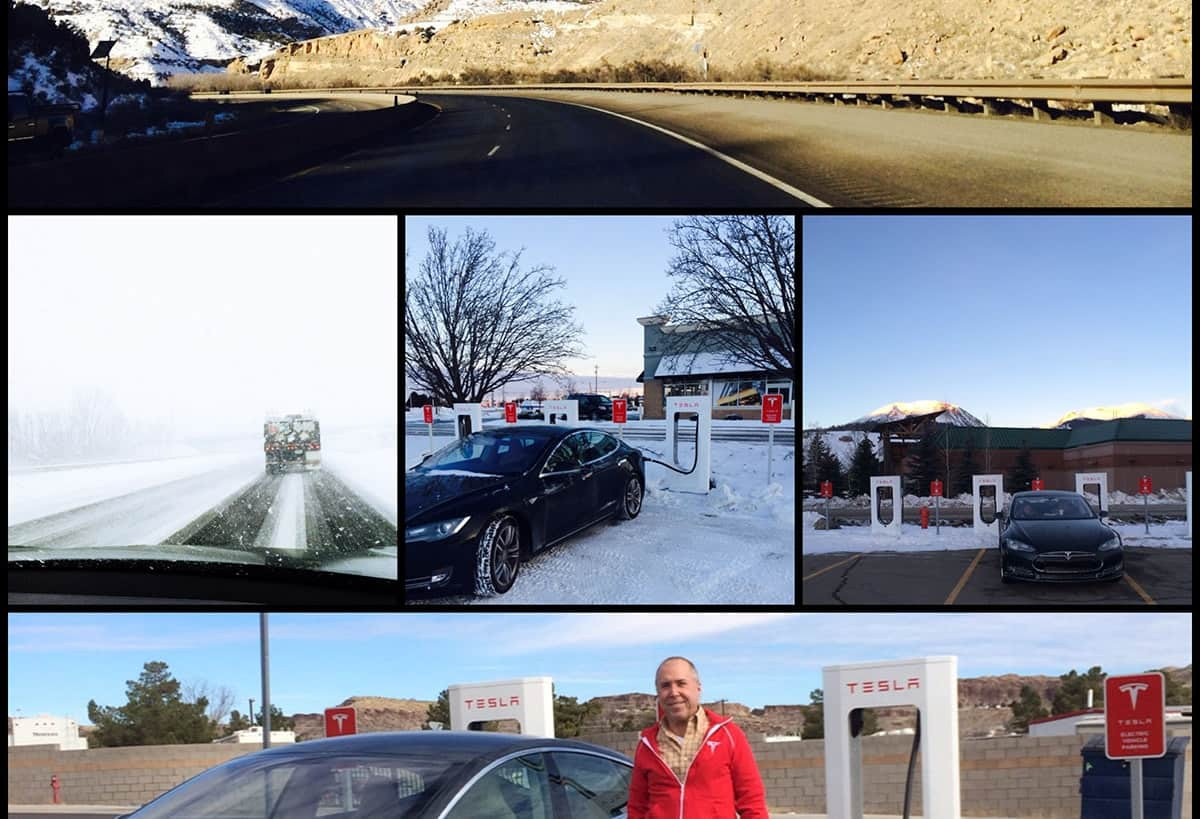 Two days after completing the first ever coast to coast crossing of the United States in a Model S relying only on Superchargers, John Glenney walked into the Tesla factory in Fremont, CA, to a standing ovation.
Glenney, a 62 year old biochemist and horse rancher, had set history in motion with an innocuous post to the Tesla Motors Model S forum on Tuesday, January 21, noting that he and his 26 year old daughter, Jill, had left New York and were headed west.
"I'll keep you up to date if there is interest," Glenney wrote.
There was interest.
Hundreds of comments poured in as Tesla fans tracked the Glenneys' progress as they made their way across the country in the middle of a polar vortex, which saw the pair and "Ivy," their trusty Model S, negotiate heavy snowfall and temperatures as low as zero degrees Fahrenheit.
"Fun to watch history unfolding in real-time!" said one forum commenter, as the Glenneys updated their progress.
Glenney had only two concerns on the trip: a flat tire in New York and a moment of worry that they wouldn't make it all the way from Newark, DE, to Somerset, PA, on just one charge. A new Supercharger in Hagerstown, MD, that would have provided more energy security was still a few days away from being opened. Even in cold conditions and facing steep elevation, however, the Glenneys made it to Somerset with 11 miles to spare.
After five days on the road, on Saturday the pair pulled into Tesla's Superchargers at Hawthorne, Los Angeles, where they were met by a group of Model S owners. The father and daughter had covered a distance of 3,400 miles through 16 states, taking in 28 Supercharger stops along the way. Grand total spent on fuel: zero dollars.
After completing his journey, Glenney said the Supercharger network provides a sense of freedom for Model S owners, who no longer have to feel confined to their home areas. He thinks the network will help convince skeptical friends that the Model S is not only an advanced technological achievement but also a sensible purchase. "People would say, 'Yeah, it's cool, but...'" he said. "Now there's no but."
This wasn't Glenney's first cross country trip in a Tesla vehicle. Two years ago, he drove his Roadster from Washington DC to San Francisco, charging the car at campgrounds along the way. He documented the experience on a website called PluginRoadTrip. Later, he traded in the Roadster for a Model S and has since bought two more of the vehicles using earnings from Tesla stock he had bought when it was priced at $22 a share.
Glenney set off on his trip with the simple goal of being the first to complete the cross country journey relying only on Superchargers, but he didn't expect it to attract so much attention. As the trip wore on and the comments flooded in, he felt some pressure not to mess up. But it was the response from his peers that really cheered him on. "One thing I really loved about the whole trip is it inspired so many people," he said.
After 2,500 miles on the road, Glenney declared on the forum that the Model S was a five star touring car, singling out its comfort, space, and entertainment system for praise. And once the trip was complete, he was just as impressed. In 46 years of driving, he has owned a lot of cars. But this one? "It's better than any other touring car I've ever had."