I Fell in Love with the Tesla Roadster, the Very One Driven by Jeremy Clarkson
I'll never forget my first time driving a Roadster. It was a prototype, one of the early ones. It was 2005. Tavin, my wife, and I were living in Los Angeles filming the documentary Who Killed the Electric Car? We wanted to seduce Tesla Motors into letting us film their car. It had never been seen publicly, but we felt it important that our film end on a hopeful, actionable message, after bashing industry and consumers for historically making poor choices. The Roadster did that perfectly. Our efforts were mutually successful: Tesla let us film the Roadster and gained one of their most passionate customers!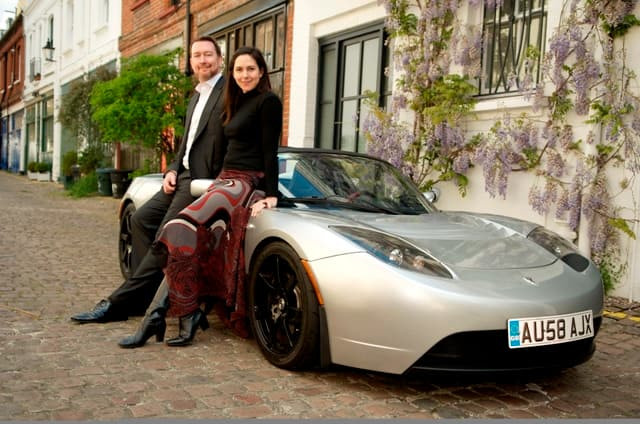 Tavin and me with the Tesla Roadster.
From the moment I pushed down the pedal on that sexy silver Tesla prototype my stomach dropped and I was hooked. I've driven (and owned) some very fast cars - including a 911 Turbo Carrera and almost a fleet of BMW's, but this was the fastest, most responsive car I'd had the pleasure of driving!
Instantaneously, Tavin and I became Tesla evangelists. I expected to be among the first people in the world to get a car; all was well until my wife and I decided to move to Europe, initially to Romania. With no Tesla sales or service infrastructure in Romania - or even Europe at that time - the Roadster would have to wait.
A year later we had moved to London, and I had joined the BBC as Controller, Future Media – leading efforts such as iPlayer, BBC homepage, and mobile service. A divergence from my historical roles as a serial entrepreneur, specifically co-founding a pair of interactive ad agencies (Razorfish & Schematic - still two of the world's largest), the BBC became one of my favourite roles to date. It was there that I began, in addition to my work as a digital media executive, to further my knowledge of the profession and role of journalism.
The BBC, a publicly funded organization, has a responsibility and obligation to meet the highest standards of editorial integrity. This was drummed into us day after day. I was forced to sit through hours of training and workshops on editorial standards. There was a sense that our work was important and that honesty, integrity, neutrality and multiple independent verifiable sources were the bedrock of all editorial practice within the organization. Most important – The TRUTH – wherever it might lurk, was our ultimate aim. One of my take-aways from the BBC is that absolute honesty can work in organizational management – and I'm in debt to them for helping me sustain and grow this belief.
So when I saw the Roadster on Top Gear, I believe it to be fair and honest. Yes the car was fast, but Jeremy Clarkson had very serious reservations. I also was shocked at his demonstration of a range problem – frankly, even this Tesla fan began to have doubts about the viability of the product.
Still, a few months later, after Tesla opened their London Store, I decided to inquire about purchasing a Roadster. It turned out that the only way to be one of first owners was to purchase the "marketing car." A sexy silver Roadster was shown to me, and I agreed.
As we began the paperwork it came out that this car was:
Prototype number 00019
One of the original cars from the first run of production
Was brought to the UK to help with Tesla's UK and European launch (meeting many dignitaries like Gordon Brown)
Had appeared on "Top Gear"! – if you check the show you'll see the number plates are the same and I've confirmed with Tesla - it is unmistakably my car!
On taking delivery of the car a love affair blossomed. Having left the BBC after three fantastic years, I had become the CEO of the Daily Mail General Trust's digital subsidiary – Associated Northcliffe Digital. With offices in Kensington and living in Highgate, I drove the car to work most every day. In the summer (and even through Fall and Spring) I kept the top down and the stereo blasting! In winter the hard top gave me comfortable headroom and kept me warm and dry. We've driven it long distances as well - most notably to the Cottswalds, where the windy roads and the weak local power (sub-5 amps!) failed to impair our weekend (we simply charged over two days).
I love the car. I've never experienced any of the purported "problems" that Jeremy Clarkson has broadcast to the world - and I own the exact same car that he supposedly tested! Needless to say, I am extremely disappointed in the lack of honesty, integrity and neutrality in that episode.
In fact, my only negative experience in owning my Tesla was when a gang of scalawags tried to steal it from me. A link is available here detailing that story. All's well that ends well.
My favourite thing about owning a Tesla is the opportunity for thought leadership. I've never owned a car that inspired people to photograph me with on the street. Women flirt with me at stoplights. Kids chase me and ask if it's "the electric one that doesn't need gas" - interesting that the next generation of drivers seem to be the most knowledgeable about Tesla. Even though it's a high-performance sports car, there is benevolence towards it I've never seen with my previous cars, particularly convertible sports cars. People smile at you, they let you merge, they point, wave and occasionally whip out their phones for a friendly picture!
The benefits are huge to this car. In addition to its lightning acceleration, long range, and convenience (just plug it in at night), there are also no parking charges, no congestion charge, and I've never been to a petrol station in the UK. I drive wherever I want. There are significant UK tax benefits, and a host of other government incentives, just for driving a great car!.
Most important is that, by driving this car, I demonstrate to my friends, business associates and the larger community that there is another way. That science and technology can change the energy and transportation ecosystem, and that focusing on sustainability doesn't mean sacrificing cool, fun or performance. My investment both in the car - and now as a shareholder - mean that I've placed a bet firmly on the future. For the planet and for technology, and for our and our children's sake, that makes me happy and proud.