A NEW YEAR BEGINS
It's hard to believe it's already February. We have a lot of exciting things planned for 2013, but I think it's important that we reflect back for a moment before we jump forward. 2012 was an incredibly active year at Tesla. We started the year with Model S beta cars and ended with the Motor Trend Car of the Year® award. We went from zero production in May to a production flow in December capable of delivering 20,000 cars this year. We opened thirteen new stores and completed more than 5,000 test drives in eight weeks during the summer Get Amped tour. We opened our first eight Supercharger locations.
We accomplished a lot in a single year, but most importantly we learned a lot. Learning from everything that happened in the past year is one of our highest priorities as we head into 2013. It's always easy to focus on things that went well, but we also want to focus our attention on things that did not go as well as planned so we can adjust as needed to ensure these issues are addressed in the future.
CUSTOMER CONNECTION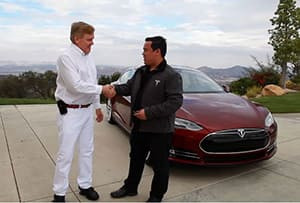 Last month we called over 500 customers who have taken delivery of their Model S to get feedback about their car, our processes and to solicit suggestions regarding how we can improve going forward. Thanks to all of you who shared your experiences with us - we enjoyed hearing the funny stories about kids, dogs and snowstorms during the delivery of your Model S. We also heard from many of you regarding how you generated numerous Model S reservations from your friends, family, neighbors and even strangers who stopped to ask questions about Model S and persuaded you to take them for a quick test drive. Your ongoing support and advocacy is greatly appreciated and is a very important part of our success as a company.
We asked lots of questions during the call campaign and are thankful to those who gave us candid, constructive and sometimes difficult to hear feedback. This type of collaboration is exactly what we need in order to improve and grow as a company. We plan to keep doing all the things you said you love and are taking immediate action to change a few things you made clear we can do better.
TAKING ACTION
In order to improve communication and response time to customers we are changing our call-in process to get roadside assistance, request service, and get answers about your Model S. We now have one number to call in North America for our Service Department, Roadside Assistance, and Ownership Experience Team: 1-877-79-TESLA. In the coming weeks, every Model S owner will receive a card in the mail to be placed in your glove box with this new number on it.
Our delivery process is also undergoing a number of improvements. We are making immediate changes to the logistics surrounding future deliveries and will provide clear communication between you and your Delivery Specialist throughout the process.
We are actively delivering Due Bill items some of you have been waiting for. Our early Model S owners are now scheduling installation of rear facing seats and receiving their High Power Wall Connectors. Items such as J1772 adapters, parcel shelves and Carbon Fiber spoilers are in production and will roll out immediately in the sequence in which they were ordered.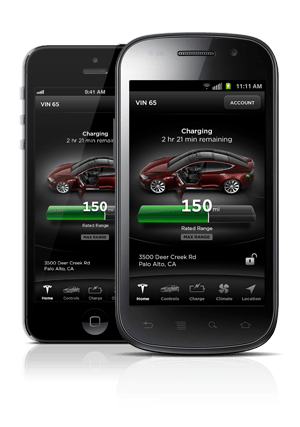 One of the great features included in every Model S is the ability to add functionality and make changes to the vehicle via remote software updates. We recently uploaded a new software version that fixed a few minor door handle and touchscreen behaviors that customers contacted us about. We recommend all customers proceed with their 4.2 update because it not only fixes a few minor bugs, it also activates many new features and provides access to something a lot of people have been looking forward to…the Android and iPhone apps. Both are now available for download! With these apps installed on your smartphone you can interact with your Model S to monitor charging, pre-condition your car on very hot or cold days, and even honk the horn to find your Model S in a crowded parking lot. Install the app and let the fun begin!
THE YEAR AHEAD
We have many exciting things on the calendar for 2013.
We will continue to open more stores and galleries so we can visit with you in person on a regular basis. Locations will be opening soon in Austin, Texas and Century City, California. In a few months, Model S display cars will begin showing up in our European stores and we look forward to seeing many of you at the Geneva International Motor Show. Our opening in China is still targeted for spring.
We opened more new service centers than stores and galleries last year and that trend will continue in 2013. Tesla Service Centers are now an integral part of our delivery process, so each new center we open will help make Model S deliveries faster and more predictable from a timing standpoint.
WRAP UP
2012 was a year of accomplishments and opportunity for us as a company. We learned a lot about our car and our processes. Thank you to everyone who inspired us during the past year and to those who gave us invaluable information during our recent call campaign. We are in this together. Remember, you are not just another person who bought just another car - you are part of the Tesla Community and together we will make a difference in the future. 
Looking forward to an incredible 2013,
George Blankenship
Interested in keeping up with Tesla Motors?
For more information on Tesla Motors and its products, please visit: teslamotors.com
For more information for Tesla Motors investors, please visit: ir.teslamotors.com
For the latest information from Tesla Motors, including press releases and the Tesla blog, please visit: www.teslamotors.com/about/press
Forward-Looking Statements
Certain statements in this blog post, including statements regarding upcoming service centers, stores and galleries and the timing for the China opening, are "forward-looking statements" that are subject to risks and uncertainties. These forward-looking statements are based on management's current expectations, and as a result of certain risks and uncertainties, actual results may differ materially from those projected. Various important factors could cause actual results to differ materially from those in the forward-looking statements, including any unexpected delays in, or changes to, our retail plans as well as the risks and uncertainties identified in our SEC filings. Tesla disclaims any obligation to update information contained in these forward-looking statements.