Welcome back to "Inside Tesla," our series of Tuesday updates giving you behind-the-scenes access to Model S production as we gear up for our first customer deliveries on June 22nd. I promised a few surprises along the way, and this will be one of those weeks!
Before we get to the surprise, let's follow our first customer cars through the factory to the next stage: Body Assembly. Last week we showed you how our Press Lines create Model S parts from aluminum sheets called "blanks." This week these pressed and formed parts head to the Body Assembly area where they are welded and joined together to create the framework of Model S. Smooth outer panels that give Model S its beautiful lines and exceptional aerodynamics are attached to inner structures that provide strength and stability.
THE BODY CENTER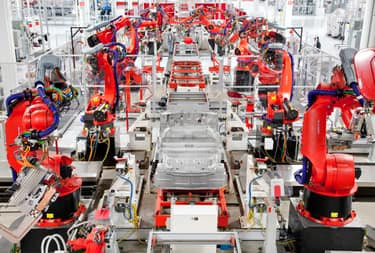 After blanks of aluminum have been stamped into 3D parts, they are assembled into what is called a "Body in White" - a term that refers to a vehicle body ready to be painted.
The Tesla Body Center is designed to assemble Model S in the most efficient and precise way. Stations run by Tesla's state-of-the-art robots surround our main Body Framing Line. At each station, robots build a unique sub-assembly and then transfer it to the Body Framing Line where it is joined with other sub-assemblies from parallel stations. The robotic arms of our Body Framing Line bond, rivet and weld sub-assemblies into the iconic form of Model S.
It's amazing to watch Model S take shape right before your eyes - which is why we've included a video of the process. I hope you enjoy it!
Next week you'll see the Body in White travel to our Paint Center, where it comes to life with your favorite paint color.
We've included more photos of the Body Center in our Tesla Gallery.
5,000 TEST DRIVES IN 45 DAYS
How about that for a nice surprise. I've been waiting two years to say these words: "It's time to test drive Model S!" Aside from seeing Model S, sitting in it, and experiencing the 17" touchscreen, I believe the moment most people have been waiting for is the chance to get behind the wheel. That time is here!!!
In order to test drive on public streets, Model S needed to be fully homologated, tested and approved by several governmental agencies. We have now successfully passed all of these tests and Model S is officially street legal.
Providing test drives to Reservation Holders has been one of our highest priorities for a long time. What better way to do it than with 5,000 test drives in 45 days? I am very pleased to announce that we are kicking off North American test drives the day after our first customer deliveries! In typical Tesla style, we are going big right out of the gate with 2,000 test drives in the first two weekends.
On June 23rd and 24th, we will launch the Get Amped Model S Tour at our own Tesla Factory in Fremont, California. Franz von Holzhausen, our chief designer, has created a great seven to eight minute test drive course that extends beyond the factory to nearby streets. The course offers a variety of experiences that include freeway driving, long sweepers, tight turns, smooth and rough roads, and general urban driving. It's the perfect way to experience how Model S grips the road and loves to run.The Fremont event is just the beginning. Our second tour stop will be held the very next weekend in the Los Angeles area.
As always, Reservation Holders get top billing. Visit our Get Amped Model S Tour page (available in the U.S. and Canada) to see when we will be in your area.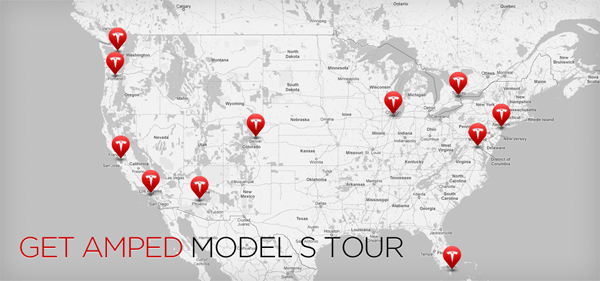 Get Amped Model S Tour Details:
All Model S Reservation Holders in North America are eligible.
Reservation Holders can sign up for any tour location they choose.
We will be sending out our first Sign Up emails for June 23rd and 24th to Reservation Holders early next week. Thereafter, we will send Sign Up emails approximately two to three weeks prior to each tour stop.
Sign Up emails will only be sent to current Reservation Holders and will be sent out in order of Reservation Sequence number until all time slots at each tour stop are filled.
Keep a close eye on your Inbox. We look forward to seeing you behind the wheel!
QUICK TIDBITS:
Be sure to try out the new Model S Design Studio that went live last week.
This past Friday we delivered a fully homologated, California-registered Performance Model S to one of our Board of Directors (I'm so jealous).
On Saturday we delivered Elon his Performance Model S. It was the perfect way for Tesla to cap off a great week for Elon after a successful SpaceX journey to the International Space Station and back. Congratulations Elon.
And finally...I'd like to give a shout out to Rafael de Mestre. Many of you may have already heard about this story, but I still think it's worth a shout out. Rafael is a Tesla owner from Europe who is driving his Roadster around the world in 80 days. He is in hot pursuit of two Frenchmen who started out back in February to be the first ever to drive around the world in an EV. Rafael could not bear the thought of someone doing this in anything but a Tesla Roadster, so he set out to catch the two Frenchmen more than two months after they had already hit the road. Rafael stopped by our corporate office yesterday for a quick hello and top-off. Follow Rafael on his historic journey as he heads across the Pacific to China next. Way to go Rafael.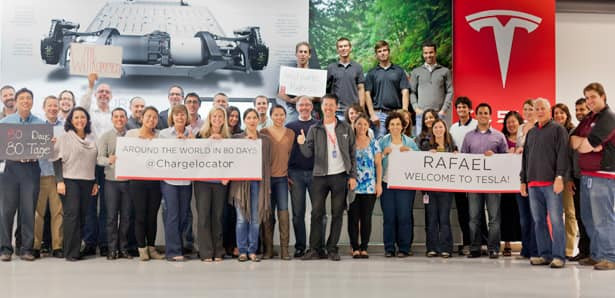 That's it for this week. Check back next Tuesday when Inside Tesla heads to the Paint Shop to show how Model S gets its gorgeous color and finish. The way things have been going, you won't want to miss the next installment.
Five thousand test drives are just around the corner!
GeorgeB