I feel I can speak for many of us here at Tesla when I say how much we have enjoyed connecting with you every Tuesday for the past few weeks. Our Inside Tesla Series has been fun for us to produce, and hopefully fun and informative for you to read.
This past weekend, Model S became a reality. Nothing compares to the feeling of pride that I have at this moment in time. There were many who said we would never deliver Model S – we just chose to listen to the people who said we could. With 2300+ Roadsters worldwide, more than 10,000 Model S Reservation Holders, and now 10 Model S on the road, we are thankful for the believers. You're the reason we're here today...and we'll never forget it!
I must admit that during the past year I have felt very awkward at times talking about how amazing Model S is. At times I felt like a "typical auto salesman," which is something I hope to never be. However, after this past weekend, I am no longer the only one at the microphone. After the initial media reviews and the first round of Get Amped Model S test drives, I am surrounded by almost 600 others who are just as excited about Model S as I am.
At the kick-off of the Get Amped Model S Tour in Fremont, California, we heard customer after customer exclaim, "unbelievable," "awesome," "nothing in the world like it," "incredible," "poetry in motion." We are humbled by these reactions, but it's not just the steadfast believers who are making statements like these. USA Today's headline announced that Model S "is spectacular." Engadget had one word: "amazing." These are just a few of our favorites from the first round of reviewer feedback. There are many more from this past weekend, and I am confident that there will be many more to come in the future. We are humbled to know that all of our hard work has paid off, and that we have delivered what we promised to those who had faith in our company over the past three to four years. Our sincere thanks go out to everyone who has stood beside us during this incredible journey.
CUSTOMER DELIVERIES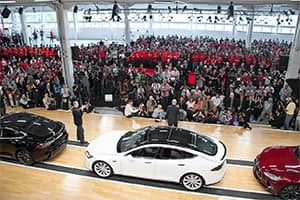 On Friday we delivered five cars to customers at an event attended by Tesla employees and media. We were honored to have California Governor Jerry Brown attend as well as representatives from NHTSA and the Department of Energy. If you haven't seen it yet, check out the video. Thanks go out also to the audience who joined us on the web, and a big shout out to everyone who watched from our stores around the world. My wife, daughter and granddaughter watched the event with an enthusiastic crowd at the Santana Row store.
TESLA SMILES
This past weekend we watched customer after customer step out of the driver's seat of Model S with the typical "Tesla Grin." Sometimes it was because of the way Model S handled in the corners, or the smooth deceleration of the regen braking that had them grinning. Often it was the G-Force they felt as they accelerated 0 to 60 mph in less than five seconds or the impressive 17-inch touchscreen. Once, it was the realization that Model S doesn't have that bump in the middle of the floor in the back seat. No matter what the reason, the smile was there. But you don't have to take my word for it because in this week's video, I'm handing the microphone to our customers who took Model S out for a spin. Enjoy the ride along with them as they experience Model S for the very first time.
We've included more photos of customers "getting amped" in our Tesla Gallery.
SAFETY FIRST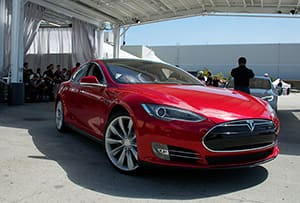 This past weekend's kick-off of the Get Amped Model S Test Drive Tour was absolutely great. We had endless smiles and glowing reviews of the car. We also learned a lot. It's no longer a secret that Model S accelerates like a rocket and grips the road incredibly well. These are two of the many great things about Model S that enhance your experience and help insure a Tesla Grin at the end of every test drive. And no mater how important it is that we give you the opportunity to do a test drive that generates the Tesla Grin, we are just as focused, perhaps even more so, that everyone enjoys the ride and the experience. With that in mind, I need to implement a few things that may be disappointing to some people, but I would rather have you upset with me about these decisions, than have us both looking back at a situation we both wish had never happened. Going forward, there are two changes being made to the tour:
1. We had more than a handful of drivers this past weekend who disregarded specific directions from their Tesla co-pilot and created uncomfortable situations for their passengers in the back seat. Model S handled every challenge thrown at it and in every case delivered beyond expectations. However, that does not make this type of driving okay when it could potentially impact others, both in the car and along the test drive route. It is unfortunate that I have to do so, but in all test drive cars going forward, we are limiting the top speed of our cars to 75 miles per hour to insure the safety of our employees, back seat passengers and other drivers on the road. We are not in any way restricting acceleration capabilities of the cars. When all is said and done, this will only impact about two to three percent of test drives, but I'd rather have you upset with me for limiting top speed during test drives, than have me visiting you in the hospital. It's as simple as that. Thank you for understanding.
2. I know this second change may also make me a bit unpopular, but moving forward, while we welcome children of any age to attend the event with you, we are enforcing a minimum age requirement of 8 years old for children riding along during test drives. The reason for this is very, very specific. The loading and unloading area at the beginning and end of each test drive is very, very active with cars entering and leaving almost every minute throughout the day. I personally attended the event both days this past weekend, and saw three instances where a small child got away from their parents in the loading/unloading area and walked towards other cars. Our staff was able to immediately retrieve them and get them safely back to their parents, but in all three instances, I was personally very concerned. We have all sorts of fun things for younger children to do, and have a dedicated space with a movie playing and coloring books where we will watch your kids for you during your test drive, but only children 8 years and older will be allowed to enter the loading and unloading area during future events. The well being of your family is more important to me than winning your approval on this issue.
We have worked very hard to make Model S safe for you, your spouse, your children, your grandchildren, your parents, and anyone else that rides along with you in Model S. It is this focus on safety that has me implementing the above minor changes for all future test drive events.
SANTA MONICA HERE WE COME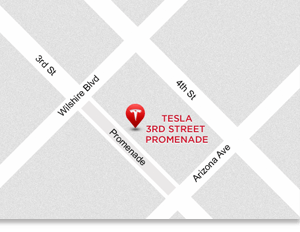 This weekend we will open our second Tesla Store this year in North America. It is located on 3rd Street Promenade in Santa Monica, California. 3rd Street Promenade is a very active retail street with tons of energy and activity every day. 3rd Street has a wide variety of restaurants, multiple theaters, convenient parking and loads of great tenants. It has a weekly farmers' market and is walking distance from the Pacific Ocean and the Santa Monica Pier. We open this coming Friday morning. Stop by and say hi if you're in the area. We plan to have both Model S and the Model X Design Prototype on display for all to see.
A FINAL THANK YOU
Thanks go out to all who have followed Inside Tesla the past few weeks and watched as we counted down to customer deliveries on June 22nd. I hope you have enjoyed the Inside Tesla series as much as we have enjoyed sharing it with you. Our customers guide everything we do at Tesla and our employees do everything possible to make sure all customers are delighted. At Tesla, we have a goal that is painted on the wall in every new store we open around the world, and every day we aim to achieve it... Our goal is to deliver the most innovative cars in the world, to as many people as possible, while making them smile...everyday.
We hope everything we do brings a smile.
Thanks...GeorgeB