GET AMPED TOUR WRAP UP
It seems like only yesterday, but it was actually almost two months ago we kicked off the Get Amped Model S Tour at the Tesla Factory in Fremont, California. This past weekend, after fifteen stops along the way, we wrapped up the tour in Dallas, Texas. Our fleet of 17 test drive vehicles accumulated more than 38,000 miles in less than eight weeks and completed 5,160 test drives! Customer feedback throughout the tour was incredible and the enthusiasm for Model S has been great. I'd like to thank all reservation holders who met us along the way and made the tour a big success. We loved having you spend time with us and appreciate all the valuable feedback you gave us about Model S. We have taken lots of notes!
I'd also like to take a quick moment to thank all the members of the Tesla team who helped make the tour possible. Many of them worked multiple weekends and traveled many miles to help support the tour. Thanks to all of you… we could not have done it without you.
BEATING OUR OWN RESULTS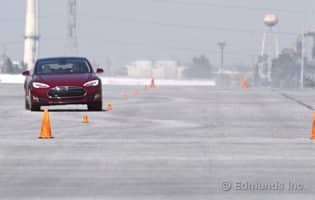 Last week we loaned Model S to Edmunds Inside Line for a day of track testing. They ran a Performance Model S through the same series of tests typically done on a gasoline-powered car to measure acceleration, braking distance, slalom speeds and lateral acceleration on a skid pad. Our goal throughout the development of Model S was to achieve 0 to 60 acceleration in less than 4.5 seconds and a driving dynamic that is responsive and well-balanced. Edmunds' tests have confirmed that we achieved our goals. Edmunds put Model S through its paces and walked away with 0 to 60 in 4.3 seconds! Edmunds did the tests with a fully-loaded car, including weight additions like the rear-facing seats, second charger and premium sound. This was the opposite of what manufacturers normally do, which is to strip out any options that add weight. Edmunds' results put Model S absolutely on par with the top performance leaders in the premium sedan category. Be sure to check out the Edmunds test track video. I particularly like the slalom footage coming straight at the camera.
PRODUCTION CONTINUES TO RAMP UP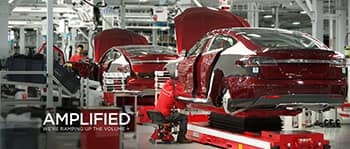 I continue to be amazed at how our team brings so many things together at just the right time, in order to keep the line moving. I spent this past Wednesday at the factory and it was great to see how much progress has been made during the past two weeks. Gilbert Passin, our VP of manufacturing, and his team have now successfully manufactured our 100th production Model S, of which 74 are for delivery to our first reservation holders. The balance is being used for test drive cars, in-store displays, engineering tests and for service team training. We plan to continue to increase production in the upcoming weeks. I'll keep you up to date as we ramp up production and deliver Model S to customers across the U.S.
CANADIAN PRICING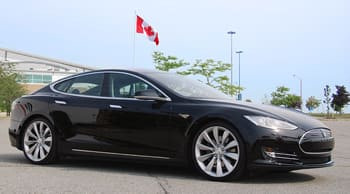 Last week we annouced Canadian pricing for all models. We've received positive feedback about the announcement but I'd like to take this opportunity to clarify several questions we've received about the import duty. Unfortunately, all cars manufactured in North America cannot be imported into Canada duty free. To avoid duty fees, a minimum percentage of the car's component value must be made in North America. Model S falls slightly below that percentage, so our cars cannot be brought into Canada duty free. To remain compliant with all laws and NAFTA regulations we must pay the 6.1 percent import duty. That is the only reason why we are including it in our pricing.
The Canadian online pricing configurator, showing all pricing and options, went live late last week on our website. Canadian reservation holders can now start choosing their options and colours as they prepare to finalize their Model S. Later this week you'll also be able to finalize your order online. Hint: Canadian Signature reservation holders should be on the lookout for an important email coming this week ☺
MAKING PEOPLE SMILE
Our Delivery Experience Specialists are making people smile every day as we deliver Model S. Signature Reservation Holder 001 posted this video and we think it does a great job of capturing the excitement that our owners go through as Model S rolls into their driveway.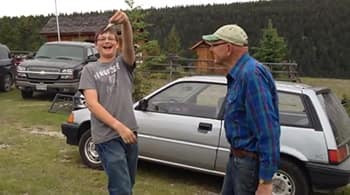 We love to get photos and videos from our customers as they drive around in their car or come across them in the wild. In the last Inside Tesla post, I shared one of my favorite Model S videos from Konstantin, an owner who took delivery of his Model S at the factory on June 22. That video inspired Devon, the son of one of our Canadian Signature reservation holders, to put together his own video titled, "1984 Honda Civic Hatchback" – a parody of sorts, and a great one, too. Every day we aim to make you smile, but I'd like to take this opportunity to send a special shout out to Devon - thanks for making us smile. As a special thank you for taking time to make such a fun video, we've invited Devon down to the Bay Area and look forward to showing him and his dad around the factory in Fremont.
We know many of you have photos and videos to share, so we have a created a special email address just for this purpose - send them to photos@teslamotors.com. You never know, your photo or video might end up on our website along with other favorites we have received.
WRAP UP
The next few months are going to be really exciting - we've got more news coming soon about the Supercharger network as well as updates surrounding our retail and service center expansion. We're actually opening almost twice as many service centers this year as we are stores. I look forward to sharing more info on that subject very soon.
And for those of you who are wondering, yes, my wife and I got our Model S on Saturday! It was delivered to our house at 10 a.m. sharp by one of our Tesla Delivery Experience Specialists. Some things really are priceless ☺
GeorgeB
Interested in keeping up with Tesla Motors?
For more information on Tesla Motors and its products, please visit: teslamotors.com
For more information for Tesla Motors investors, please visit: ir.teslamotors.com
For the latest information from Tesla Motors, including press releases and the Tesla blog, please visit: www.teslamotors.com/about/press
Forward-Looking Statements
Certain statements in this blog post, including statements regarding future production of vehicles and vehicle performance characteristics, are "forward-looking statements" that are subject to risks and uncertainties. These forward-looking statements are based on management's current expectations. Various important factors could cause actual results to differ materially, including the risks identified in our SEC filings. Tesla disclaims any obligation to update this information.