Welcome to our first edition of "Inside Tesla!" This series of Tuesday updates is designed to take you behind the scenes of Model S production as we count down the days to our first customer deliveries in the United States. Three years ago we set out to build the world's first premium sedan designed from the ground up as an electric vehicle. Less than two years ago, we purchased the Tesla Factory in Fremont, California. Our incredible Manufacturing team, led by Gilbert Passin, has delivered a world-class production line designed specifically to build the most innovative cars of the 21st century. Over the next few weeks we will showcase various areas of the factory to give you a glimpse into how your car will be built. The images and video included in this update will take you through the first stage of building Model S - the stamping process. As you read this update, keep in mind we are now building cars to be delivered on June 22nd!
STAMPING
Tesla is one of the few companies in the world producing a steel-reinforced aluminum car. Aluminum reduces the overall weight of Model S to help maximize efficiency and range.
Your Model S actually starts as a huge aluminum coil that weighs up to 20,000 pounds. This coil is unfurled and fed into our Blanking Line that cuts the aluminum into large rectangles aptly called "blanks."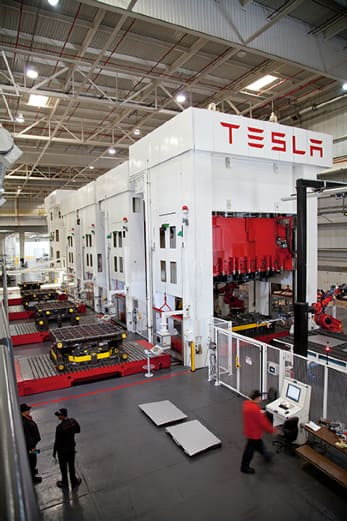 Our Press Line stamps the aluminum blanks into 3D parts using huge molds called "dies." The large black and yellow dies weigh up to 40 tons and are design-specific to stamp each aluminum piece of Model S.
The hydraulic Press Line shown here enables Tesla to produce large panels of the car, like doors and hoods, in-house, rather than outsourcing this production. Our Press Line is the largest of its kind in North America and is capable of producing one part every six seconds.
Our state-of-the-art Kuka robots move aluminum blanks into the press, and then, using over one thousand tons of force, the blank is formed, trimmed and pierced. It's very impressive to watch as flat aluminum blanks go in one side and shaped, paint-ready panels come out the other.
We have assembled a short video to give you a sense of how this all works together. The video doesn't do justice to the size and scale of the presses, but it does show how automation helps move parts through the process one step at a time.
Next Tuesday we'll show how these newly pressed parts are assembled together. Suddenly parts that alone resemble doors, fenders, and body panels are joined together and become recognizable as Model S! It is the first step in the process where your car actually begins to take shape and it's amazing to watch robots align and connect major sections of the car!
Visit our Tesla Gallery for more photos of the stamping area.
NEXT GENERATION DESIGN STUDIO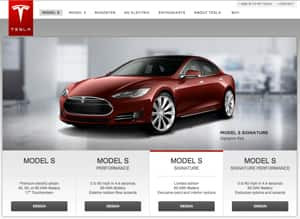 It has always been a primary objective at Tesla to design, engineer and deliver an incredible car. In order for our mission to be complete, this incredible car must be coupled with a forward thinking, innovative customer experience. Later this week we take another step forward to deliver that experience. I am happy to announce that in the next few days we will go live with our next-generation Design Studio. Tesla's Design Studio is the go-to destination both in-store and online to build your Model S. You can choose exterior options and interior decor and, within seconds, see it just as it would appear in your garage.
With the launch of our new Model S configurator, the Design Studio experience is elevated to the next level by empowering you to fully design and build your car online. You will now be able to view every option, package and price as you customize and configure your Model S! The experience is both informative and fun to use. It provides an easy way to configure your Model S when the all-important email saying, "It's Time to Build Your Model S" arrives!
Approximately three to four months prior to delivery of your Model S, Tesla will let you know that it's time to send YOUR order to the factory. Up until now, all final configurations have taken place on the phone or via email. Going forward, you can use the new Design Studio to create the exact "final configuration experience" you prefer — on the phone, online or in one of our Tesla Retail stores! We look forward to sharing the configuration process with you in whatever way makes you smile!
In the coming months we'll take another step forward by enabling you to complete all of your ordering documentation online. Believe it or not, at that point you will be able to order your Model S from start-to-finish 100 percent online.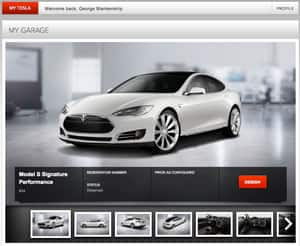 You can stay connected throughout the process via our updated MY TESLA dashboard. Access your own private dashboard at teslamotors.com and see exactly where your car stands at any point in the process. The updated Design Studio is a big part of bringing your MY TESLA garage to life. Be sure to check out how these two updated features work seamlessly together and let us know what you think.
As you can see, there is a lot going on this month. Follow us on Facebook and Twitter to stay up to date. Next Tuesday, Inside Tesla will go to the Body Assembly area with Model S, and perhaps deliver a few surprises... We are working on a few things that could be shared as early as next Tuesday. Hold onto your hat, next week could be very interesting!
Twenty-three days and counting!
GeorgeB