Check out what rolled into Motown last week!
First, the Roadster Road Trip arrived in Detroit. Beginning December 17th 2009, eighteen Tesla employees drove an Arctic White Roadster Sport (it came to be called "750″ because of its VIN number) over 3,600 miles from Los Angeles to Cobo Hall for the auto show. The trip raised awareness about electric cars and proved that the Roadster is tough, durable, and range anxiety is for the weak. 750 arrived in Detroit on Friday afternoon (January 8th). It toured around town before heading to Cobo Hall to prepare for the North American International Auto Show that began today, January 11, 2010.
At Cobo Hall, 750 greeted two other very special Teslas as they rolled off the truck. First, came the Model S:
Next, Roadster VIN 1000 backed out. This Roadster marks our 1,000th car worldwide. It is painted Millennium White and has special seats and trim.
The cars drove into Cobo Hall together.
Staying true to our word, we didn't wash 750 before driving it into Cobo. This might be the dirtiest a Tesla Roadster has ever been (at least it's clean on the inside)!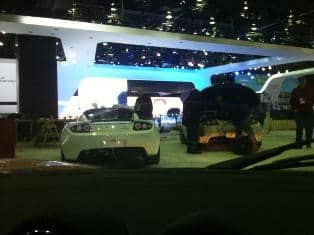 Wondering what else we've got in store for NAIAS? We'll keep you updated as Elon Musk speaks during the Press Conference tomorrow, January 12th, on Twitter.