This weekend we open the next Tesla Store at Park Meadows Mall in Lone Tree, Colorado. Each Tesla Store opening represents a pivotal milestone on the path to putting Model S on the road; they make Tesla's groundbreaking electric vehicle technology accessible to more people.
In early 2007, the idea of the "perfect" Tesla store was born. Elon boldly promised to revolutionize the car-buying experience: replace poorly designed dealerships with sleek, modern, company-owned spaces, and trade pushy, deal-driven salespeople for knowledgeable, friendly product specialists. Tesla swiftly made good on that promise, opening seventeen stores worldwide.
I joined Tesla last year to take its retail strategy to the next level. Leveraging my Gap and Apple retail learnings, I asked "what else can we do to make our car buying experience even more exciting and buzz-worthy?" The answer was to entice, inform, and engage. We set out to create a highly interactive buying experience, and bring it to high-traffic shopping centers visited by people looking for something new.
We opened the first Tesla Store of this kind on April 16, 2011: Tesla Santana Row, located in San Jose, California, just 15 miles from Tesla headquarters. In the first ten days, our new store had over 20,000 visitors!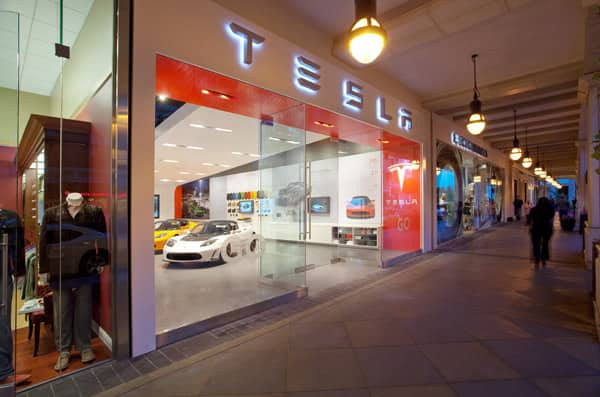 The store is designed to invite everyone – from toddlers to great-grandparents – inside to experience Tesla. You'll never find a sign that says "Do Not Touch." In fact, our goal is just the opposite: we want everyone who enters the store to open the Roadster's doors and jump right in. On opening day at Santana Row, hardly a minute went by without cameras snapping people behind the wheel of the Roadster. The Design Studio was in constant use, enabling visitors to configure their Roadster, as both serious buyers and excited dreamers.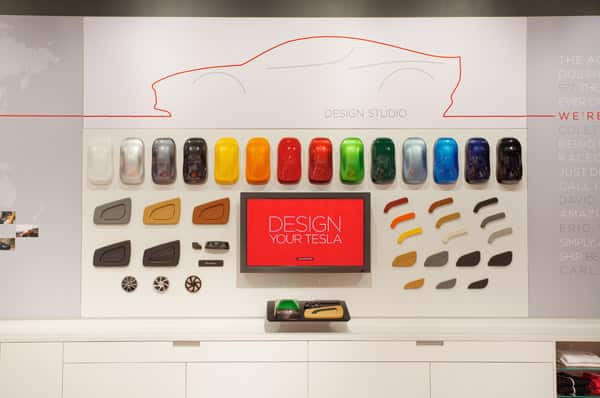 Tesla Santana Row is just the beginning.
Each new store we open, Tesla Park Meadows this weekend and other stores this fall, is staffed with savvy Product Specialists. They are always available to answer your questions about EVs, what it's like to own a Tesla, how to charge, and what the Tesla grin is all about. While they are very happy to tell you about Roadster, you'll find each of them just as excited to talk about Model S.  There will never be pressure to buy or reserve a Tesla on the spot: go home and think about it, or come back for another visit.  Model S reservations can be completed in-store or from your computer, smart phone, or iPad.
Service Everywhere
One of the tenets of the "perfect" Tesla Store Elon outlined years ago was transparency: using large windows from the sales area to an immaculate service bay, exposing what electric cars lack: dripping oil and toxic fumes.
Yet, at both Tesla Santana Row and Tesla Park Meadows, you'll quickly notice there is no service bay. The new stores signal our evolving approach to service, one which will allow us to support a growing community of Tesla owners.
The opening of Tesla Park Meadows coincides with the opening of a service-only location about fifteen minutes from the store in Glendale, Colorado. The Tesla Denver Service Center is easily accessible to all owners in the area, conveniently located near I-25, Denver's major north-south highway. This Service Center is the hub for the Service Rangers. They make house calls for customers who prefer not to bring their car to a service center. The strategy of placing stores in high-traffic areas and Service Centers in central, easily accessible locations will be rolled out as we ramp up to Model S production. 
I am very, very excited about expanding Tesla's retail and service footprint in the coming months. If you're in the Denver area this weekend, please join us to celebrate our Park Meadows opening. And, stay tuned this fall as we open more Stores and Service Centers across North America!