For 20+ years, Eric has lived his dream in the Visual Effects industry. It wasn't until he rode in a Roadster at its Santa Monica debut that he found a new passion. Eric is co-founder of Tesla owner's Socal Greenspeed Club and thinks the future is electric.
Roadster ownership is not limited to one kind of person – really, anyone can be a "Teslaficionado." Sure, there are owners who send their Roadsters to an eternal slumber in a temperature-controlled warehouse with their other exotics and seminal vehicles of their day, but Tesla employees will tell you the vast majority of Roadsters aren't suffering from a Storage-Mode museum fate. Electric cars are meant to be driven!
There also are owners out there who believe so strongly in Tesla and the mission to fill the road with electric cars that they make the unprecedented purchase of a Tesla Roadster by selling family stock, property, other cars, or vintage comic books. Many even make payments (shudder) on a car that promises to save the world. Indeed, the mere existence of Tesla has shaken the industry and become a major force in moving other manufactures to offer EVs.

On Nov 15th 2009, 12 Southern California Roadster owners of all types from Ventura to San Diego met on a beautiful day at Terranea Resort in Rancho Palos Verdes. Only open since June 2009, it is the 20-year-old site of the Marineland of the Pacific.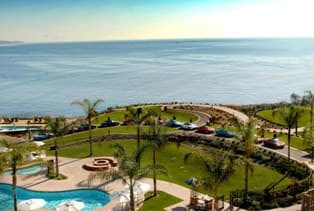 It started as a couple of owners thought it might be a great place to meet for a group Brunch and Drive. A few of us checked out the Resort the week before and on the event day we arrived early to scout a good site for a photo op.
Any resort would love the idea of hosting a group of exotic cars owners and serving a buffet brunch for 19 people. But when we found a path with a nice ocean backdrop for the photo op, the resort managers were a little unsure about letting us drive on a path designed for walking and electric maintenance carts. They weren't thrilled initially to have "dirty" cars parked in an exclusive area of the Resort between the pool and the ocean. They were also worried about a ruckus from a dozen supercars disturbing the quiet of an exclusive resort. Once we explained that our Roadsters were quiet, exhaustless, and have no oil to drip, they were excited to host the cars anywhere we liked. Turns out, this time, comparing our 0-60 in 3.9 (or 3.7) machines to "golf carts" was a good thing!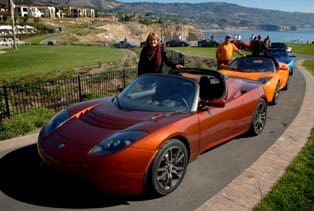 Another great part of the day was meeting two very special passengers. Sitting next to me at brunch was 16-year-old Chasen Bell. The first car Chasen ever drove after passing the California learner's permit test was his dad's Roadster. He's probably the first boy to learn to drive in a Tesla, but I'm certain he will not be the last. Across from me was Howard Dunholter, who at 98 years young, might be the only Roadster owner to remember the ladies driving their electric cars back in the 1920's. Interestingly, both Howard and Chasen's father shared the vision of a world of electric cars as EV1 owners. Our regular drive events in Southern California (and I'm sure owners around the world will agree) always remind me that anyone can become a "Teslaficionado" and we can't wait to share the road with you.
Our group, Socal Greenspeed goes for a drive every month or so. If you are a fellow Roadster owner in Southern California please join us by calling Jeremy at Tesla Store Los Angeles for our info.