"Daddy, it's like we're famous!"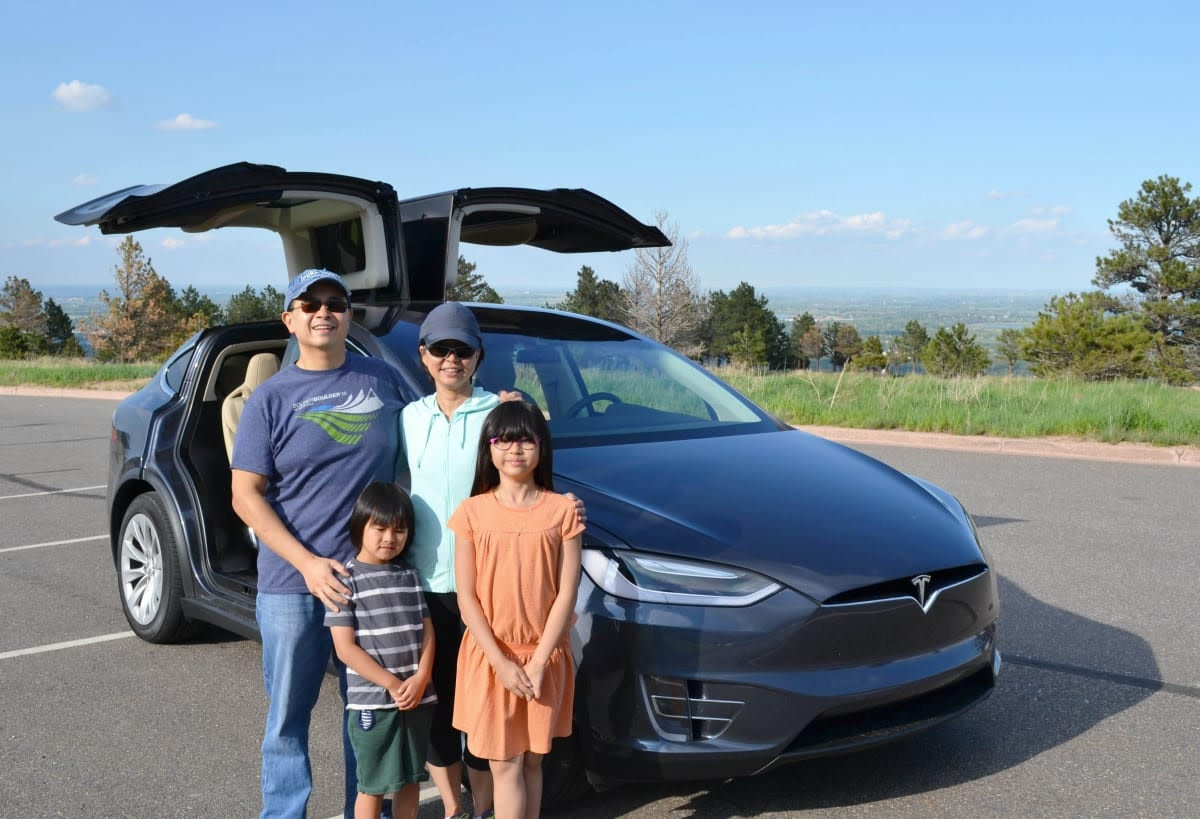 "Daddy, it's like we're famous!", said our 9-year-old daughter after numerous people stopped to take photos of our new midnight silver Model X 90D designed with 6 seats, tan leather, sub-zero, Auto Pilot.

The car is simply incredible.
Going from an ICE to an X is really a stunning feeling, more than if we had been upgrading from a Model S. Our family put out our reservation about 3 years ago, and we have been waiting patiently since. We talked about switching to a Model S on a number of occasions but decided to continue to be patient.

As early signature owners gave feedback on build quality and problems, we became extremely worried, but decided to give Tesla and Elon the benefit of the doubt. We placed our order in early January. We are so happy we stuck with our decision.

Tesla has really ironed out the issues:

Alignment of the Falcon Wing Doors is not an issue: They look great and alignment is spot on.
Parking in our garage is not an issue: Falcon Wing Doors sense my motorcycle parked tightly besides the car and adjust appropriately. (Actually, it's amazing to watch.)
We haven't noticed glass distortion issues.
The seals on the car all look great.
The front doors function fantastically.
What really floors us about the car:

Acceleration is incredible, even in a 90D. When I think of how heavy the vehicle is, I'm floored with how quick it is. My wife has told me numerous times to stop "testing" it.
Handling is so nice when we are driving at speed. The stability of a battery pack for this SUV is really hands down better than any other SUVs we test drove.
The touchscreen display really does revolutionize the experience. When we decided 3 years ago on the Model X, we also considered the Acura MDX, but it was too busy with numerous buttons and dials. Having such a clean look and highly functional display is refreshing.
Autopilot is just jaw dropping. Getting over letting the car drive itself is daunting, but after about 15 mins, I sat in awe. Being a tech guy, the engineering that went into it is truly impressive. It's also going to save me from speeding tickets as I am much more willing to trail other cars while in Autopilot.
Plugging in. It is quite liberating to stop visiting the gas station. We also installed solar panels. We feel great that we're helping contribute to a solution.
One pedal driving. I wasn't sure I would, but I'm loving driving with regenerative braking. It takes a little getting used to, but it becomes entertaining on how well I can time the stopping distance.
Finally the Falcon Wing Doors - they are amazing. It's an engineering feat that I just admire. We pay more attention to what we park under, but so far the doors have not let us down. The kids love the attention they get. The doors draw an emotional "wow" reaction from people. This car wouldn't be the same with standard doors. Part of a car should be how it makes you feel, and the doors just scream sexy. It's a car that in 5 years, will still draw interest and remind us how special it is.
As a whole, I'm amazed at how well all the revolutionary features come together to make this an amazing SUV.