A Family of Model S's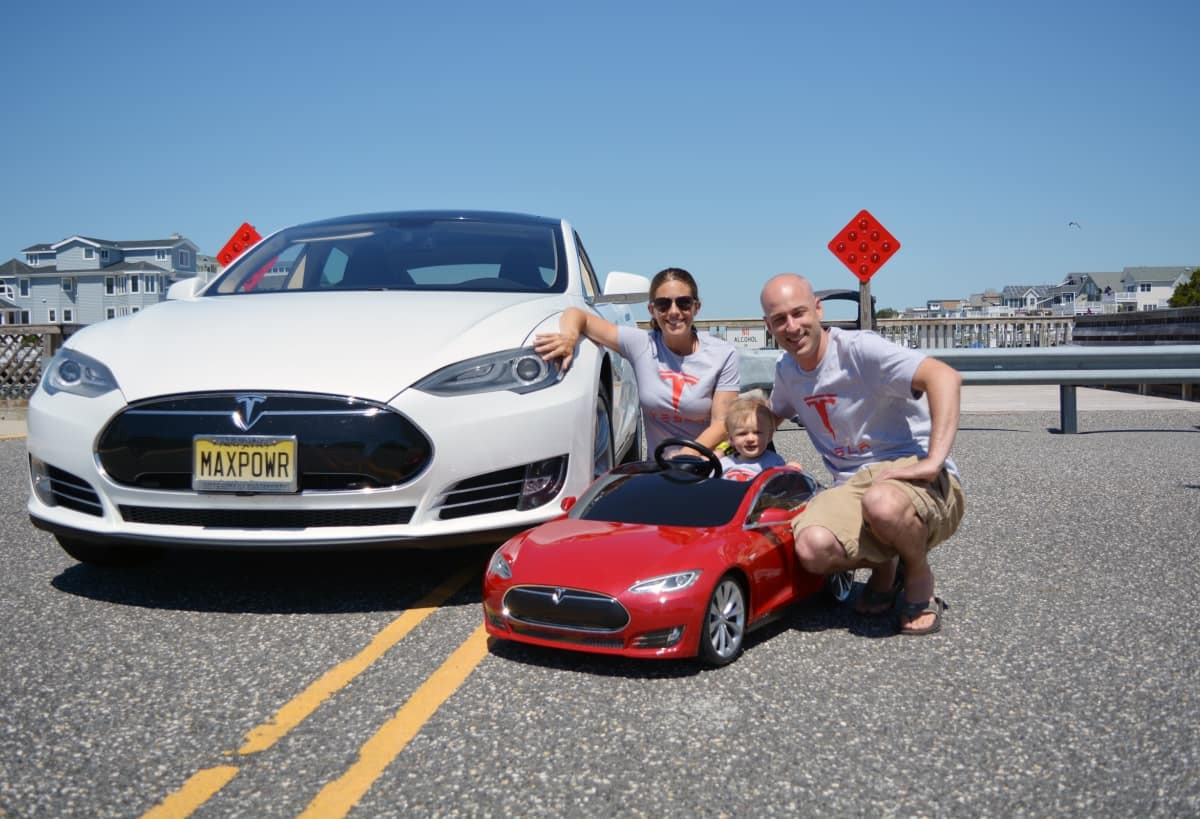 My wife and I purchased our P85 Model S in July 2015, three weeks before the birth of our son, Max. I had my first taste of what a Tesla could do the prior year when I test drove a Model S at an event the Tesla team had set up outside a local restaurant. At the time, I never thought I would buy one. Boy, how wrong I was! I was passing by the event and said. "Sure why not just give it a try." I thought to myself I would never be able to afford the car and wouldn't really considering buying one thinking of practicality of an electric vehicle.
The answer was the Tesla Model S
Two years later, we decided to make our permanent home in the seaside community of Avalon, NJ. Prior to moving, I had a five-block commute to my screen printing business in Glassboro, NJ. I had to trade that to a 55 mile commute to and from Avalon. This definitely made me realize the need for a comfortable, safe, reliable, fuel efficient car that was still fun to drive. The answer was the Tesla Model S. We decided to sell our Hummer H2 and Prius to go Green!
After a full year of experiencing this new commute, I would never look back to get another vehicle for this drive. I truly enjoy driving the Model S every day, even on weekends. Whether commuting, visiting family in Connecticut, or heading to upstate New York, I can't stop driving it.
No engine, more space
The Superchargers along our routes have brought us to new places to shop, eat and explore that we would have never known about. The storage in the car has been a huge plus, especially among family members and friends who wonder how we pack all our belongings and the baby's belongings in a "regular sedan." We can't wait until Max is old enough to not know any different than his stroller being stored in the "frunk" where an engine normally goes (and a space we have used to create a baby ball pit).
Max's mini Model S
After finding out Radio Flyer had teamed up with Tesla to build a mini Model S I immediately placed an order for Max. I created his very own red Model S with a personalized license plate. It is so fun to say that my son and I now have matching cars! Although he is way too young to enjoy the Mini Model S, one day he will grow into it and enjoy his Tesla alongside mine. It is truly amazing that he will be able to grow up electric. We are eagerly awaiting a self-driving Model S for Max so we can send him to his friend's house down the road. I am sure that technology is around the corner.
A family going green
Living at the beach we get to witness nature's beauty on a daily basis and never take it for granted. Whether it's surfing, wakeboarding, or playing in the sand, we are always enjoying water activities where we live. Commuting 110 miles each day in an all-electric vehicle not only saves us money but rids us of our oil dependence and lessens our carbon footprint. We would like Max and his future children to enjoy the same pristine beaches and nature we have been exposed to that the Model S makes perfect sense in setting that example for our future in renewable energies.