A Model S surprise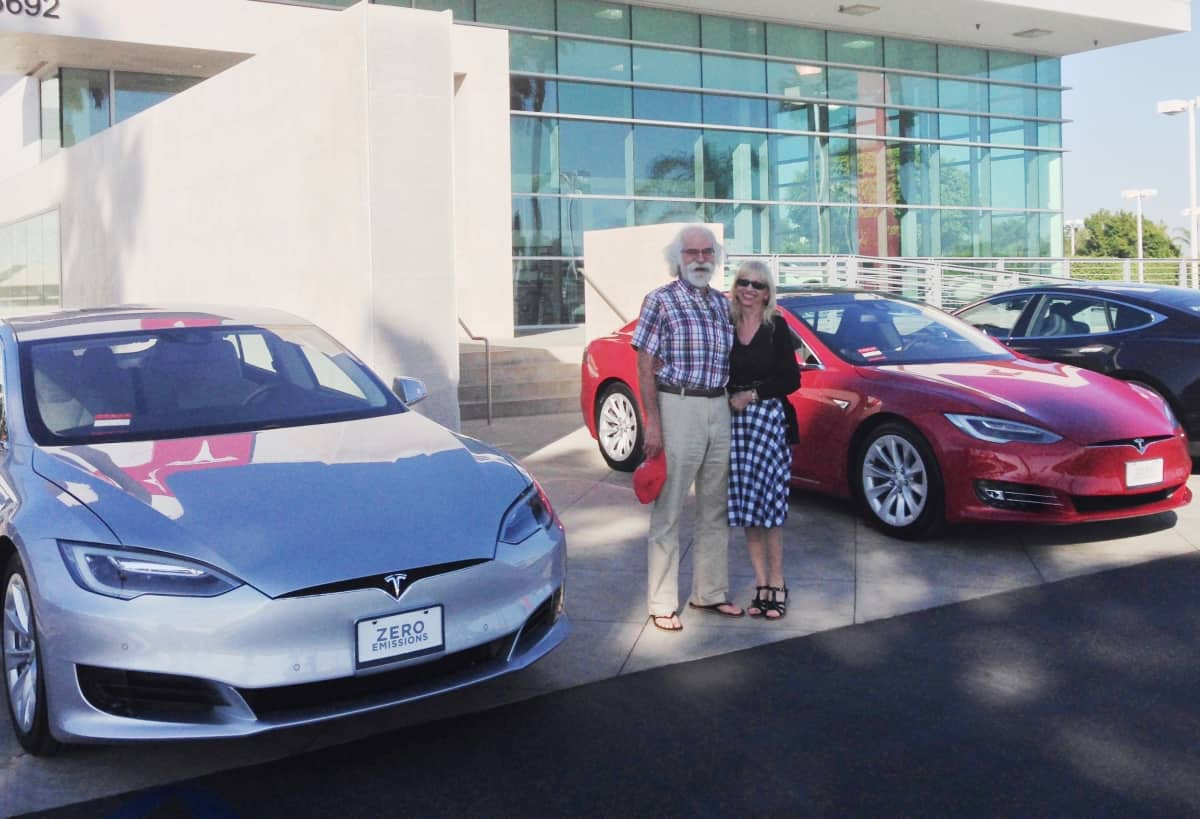 I recently joined the Tesla Family, but I've been following the story since the beginning of the Roadster. I always wanted to buy a Tesla, but I just never saw myself as the owner of a car that expensive. I drove the same car for 29 years, an Acura Integra. It now has 223,000 miles on it. It's a fine car, but after 29 years, I didn't feel bad about upgrading.
What an upgrade!
Before I had a chance to upgrade my car, Musk's announcement about the Model 3 came out. Finally a car I could see myself in! The change in the way I thought about Tesla's happened on the morning of March 31st. I was standing in line with 300 other people, waiting to place a $1000 deposit for a Model 3, at the Buena Park Service Center and Showroom. About halfway through the wait, a semi from Fremont pulled up and parked on the median strip in front of the showroom. It had about six new Model S's on it. I stared at that truck for quite a while, and then said to myself "Hey, I could buy one of those right now!" Not because I wanted a luxury sports sedan, but because I wanted to be part of Elon Musk's mission. And I wanted to do it now.
Our first Model S
I'd bought our first Tesla a few weeks ago, a silver Model S 90D with light gray seats. I liked the red with black seats more, but we have some really hot weather here, so I went with what I thought were "practical" choices. Then just for fun, I configured the one in red too. Turns out it was the same design my wife wanted.
I bought this one for me.
Big surprise: our second Model S
My wife Sandy has been by my side for 20 years, it was time to do something very special for her. I wanted to give her a very special present. I'm not big on gifts like she is, but this time I knew I had a good gift in mind.
After a few days of staring at a Model S on the Customization page, I decided to go ahead and buy it, and give it to my wife! I went into the study, brought up the profile for her car, and clicked on the "Place Deposit" button.
It was a tense 6 weeks waiting for delivery, and figuring out how to have her at the Buena Park Showroom without suspecting anything other than that we were there to buy her a Tesla T-shirt. She had a Girl Scout Reunion luncheon nearby, and I told her that we needed to stop by the Showroom to have our iPhone Tesla App checked.
I pointed to an envelope in the center console, and said I had made a bunch of notes for our meeting with our Delivery Specialist. It was really a special card for her.
It was a complete surprise!
I wanted our daughter to witness it so I had to arrange for her to be there too, without Sandy suspecting. I told Sandy that our daughter Morgan was in study group nearby and would be stopping by to meet us, because the Showroom had a Model X, and her Uncle Steve was interested in one. I stuck to the red T-shirt story, and when Delivery Specialist Brian DeMers came over to us, I said "We want to buy a red T-shirt." But there were no red ones anywhere. Every Tesla Showroom we've been in has red T-shirts. Brian said "let me take you into the storeroom and let's see if there is anything there for you." He led us around the wall to a special room, and there was her red Model S 90D, with a big bow on the windshield. She still didn't know what was happening. Then I handed her the envelope. She took out a card I made, and read, "You Deserve it."
Left: Sandy still showing the Tesla Grin! On right, our daughter. She is looking forward to a Model 3.
I had been dropping hints during those 6 weeks since I put my order in, but she was expecting a Model 3 next year, so cleaning out the garage, installing two Nema 14-50 outlets, ordering two windshield shades, it all fits.
This was something I knew we would treasure for a long time. The Model S was a wonderful present and our experience will be a memory of a lifetime!