The Polar Express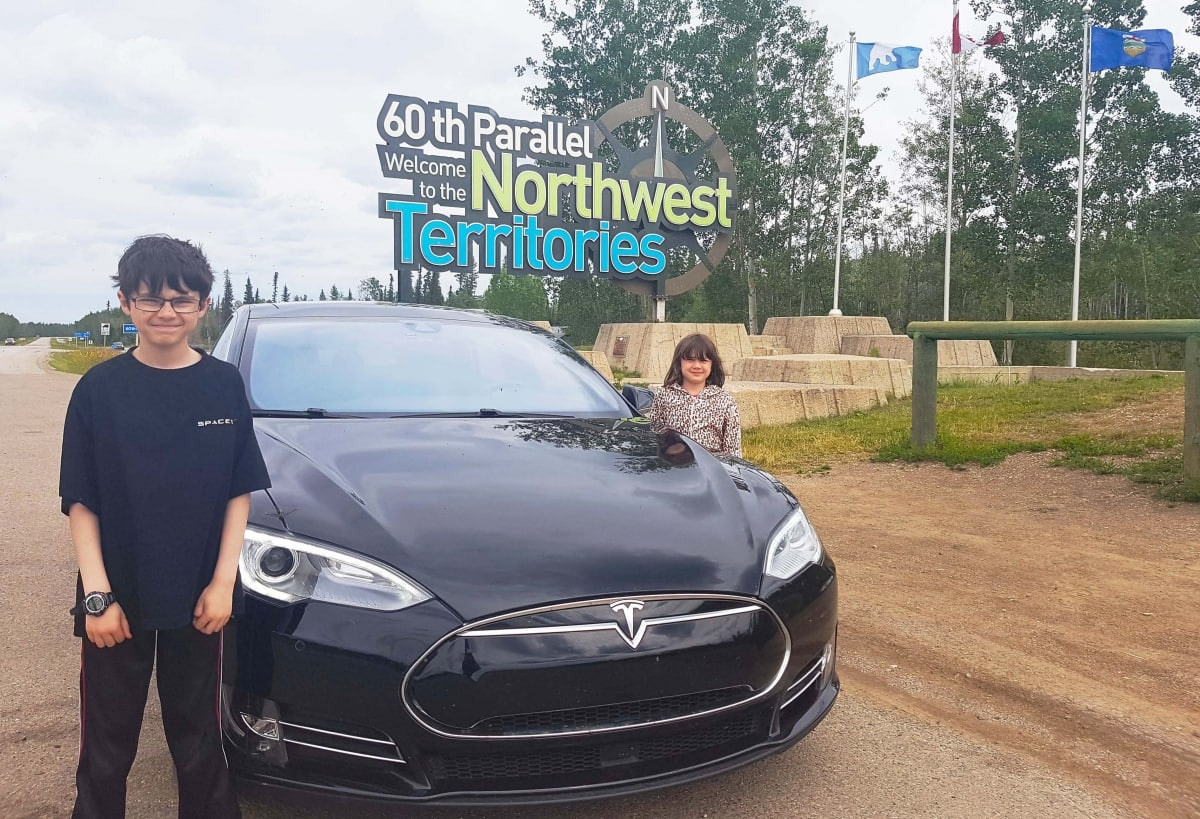 If you told me only 2 years ago that I would switch to 100% electric vehicles, I would have told you that you were nuts. I never imagined how quickly the technology of the automotive industry would change. I know most people like myself have dreamed of the day we would have self driving cars, or cars that use something cleaner than gasoline and that day never really came. Until now.
Tesla caught our attention
My wife Lisa and I made the move to 100% electric vehicles less than 2 years ago, we actually got a Nissan LEAF first but that will soon be replaced with a Model 3. Tesla hadn't released Autopilot yet, it wasn't even on anyone's radar, forgive the pun. We fell in love with EVs the moment we drove one. The quiet and clean drive, the lack of stops for gasoline, and the cost savings were all obvious once it was staring us in the face. Then Elon Musk made the big announcement about Dual Motor and Autopilot. That's the moment Tesla really caught our attention.
Model S sells itself
Discovering the range was more than 400 km, that it could operate safely despite Canadian winter temperatures of minus 30°C, and that Tesla had Rangers for service, I looked at my wife and we both said, "Let's see if we can make this work." But my wife and I weren't convinced until the day Tesla visited the area and offered test drives. As soon as we sat in that car and drove it around the area we were sold. Who couldn't be, the car sells itself! When the order was placed it was like Christmas for the 6 weeks waiting until delivery. I've never had so much anticipation for any purchase in my life. I must have read the entire manual several times and watched all the videos multiple times before the delivery day.
When our Model S arrived, we called it the Polar Express. Our car is the first Tesla in the world with the iconic N.W.T. polar bear license plate.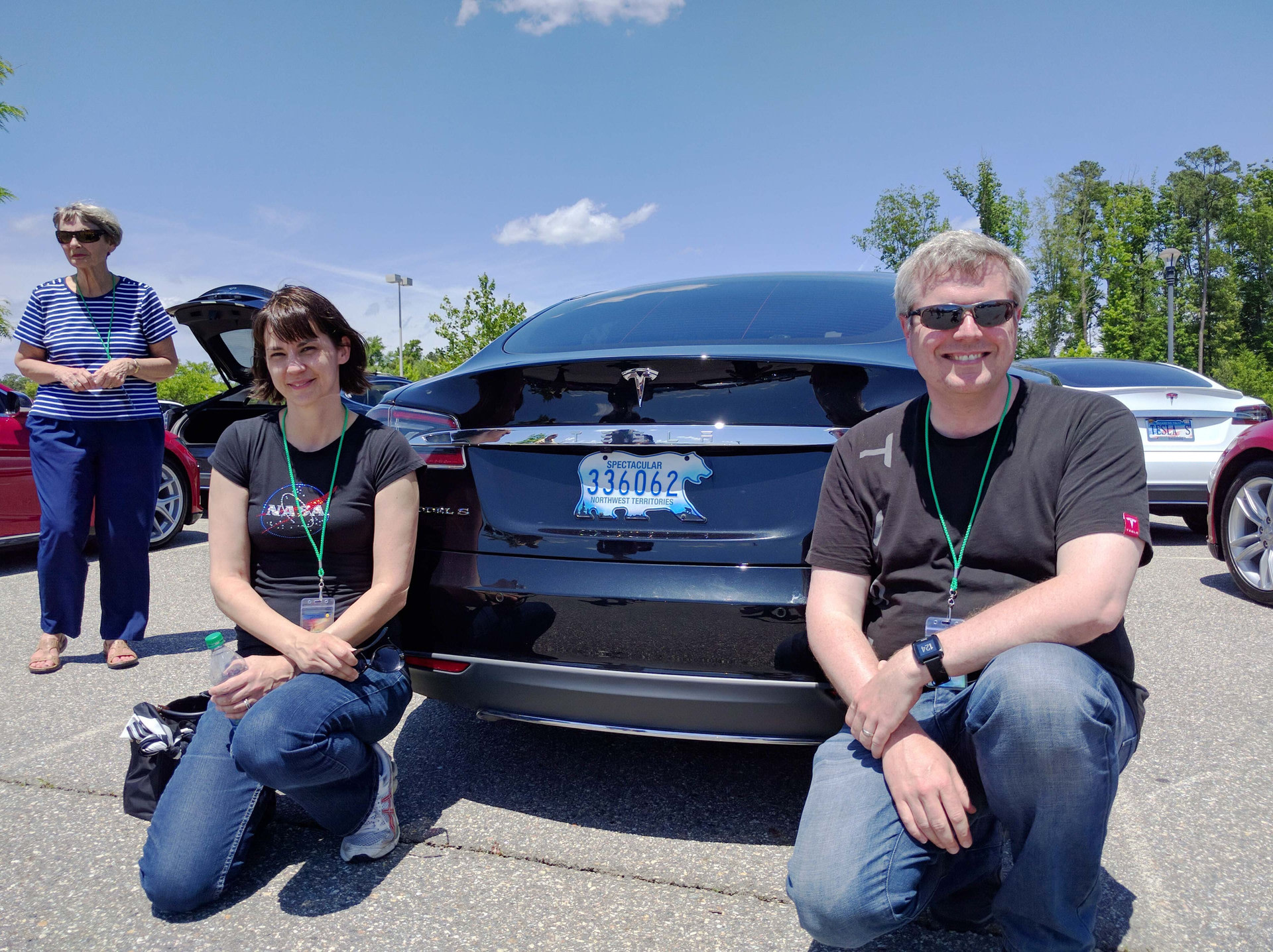 Lisa and James Locke with the Polar Express. Right: Tesla Road Trip 2016 route.
Tesla moments
I think the proudest moment for me personally is the day we drove our Tesla to Hay River, NWT. We are the first to get a Tesla North of the 60th Parallel in North America. It was an amazing feeling to bring such a new technology to the North. We're also the first to have a Tesla charger in the NWT. It was so much fun to see the look on so many people's faces that I took for test drives!
Tesla road trips
Since we took delivery it's been nothing but pure joy when driving. Driving a car isn't a chore anymore and road trips are fun! We never before went on major roads trips like this. We did lots of trips out from Hay River, Northwest Territories to the largest city out of necessity. After getting our Model S we have done 70,000 km in our first year! We have crossed the continental United States twice, the most memorable was for Tesla Road Trip 2016 in Williamsburg, Virginia. To see so many electric cars in one place was inspiring and electrifying to the soul. To see a future within reach when no more gasoline cars are on the road is suddenly possible and so very close. My kids routinely ask why people still drive noisy, smelly gas cars when electric cars are available now?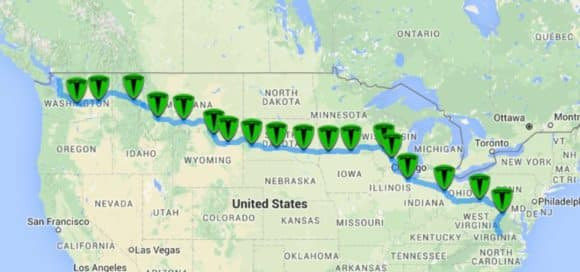 Tesla Road Trip 2016 route
Fuel savings
The price tag was a major consideration for us. I'm not rich, but I haven't looked back. I never would have spent money like that on any other car. The best part is driving by gas stations! We have now put 70,000 kilometers on the car over several road trips, and we have saved approx. $12,000 in fuel compared to our previous SUV.
The future is now
I can see the day in the near future when more EVs are on Northern roads and driving the future to sustainable transport coast to coast to coast. I can now see the day, not so far from now I can hop in my Tesla Model S and it will take me to the NWT without touching anything. I could work or sleep and the car will safely take me to my destination. The future is now and I can't wait to see where it takes us next!