Tesla Model S- The Everyday Family Car For Our Family of Five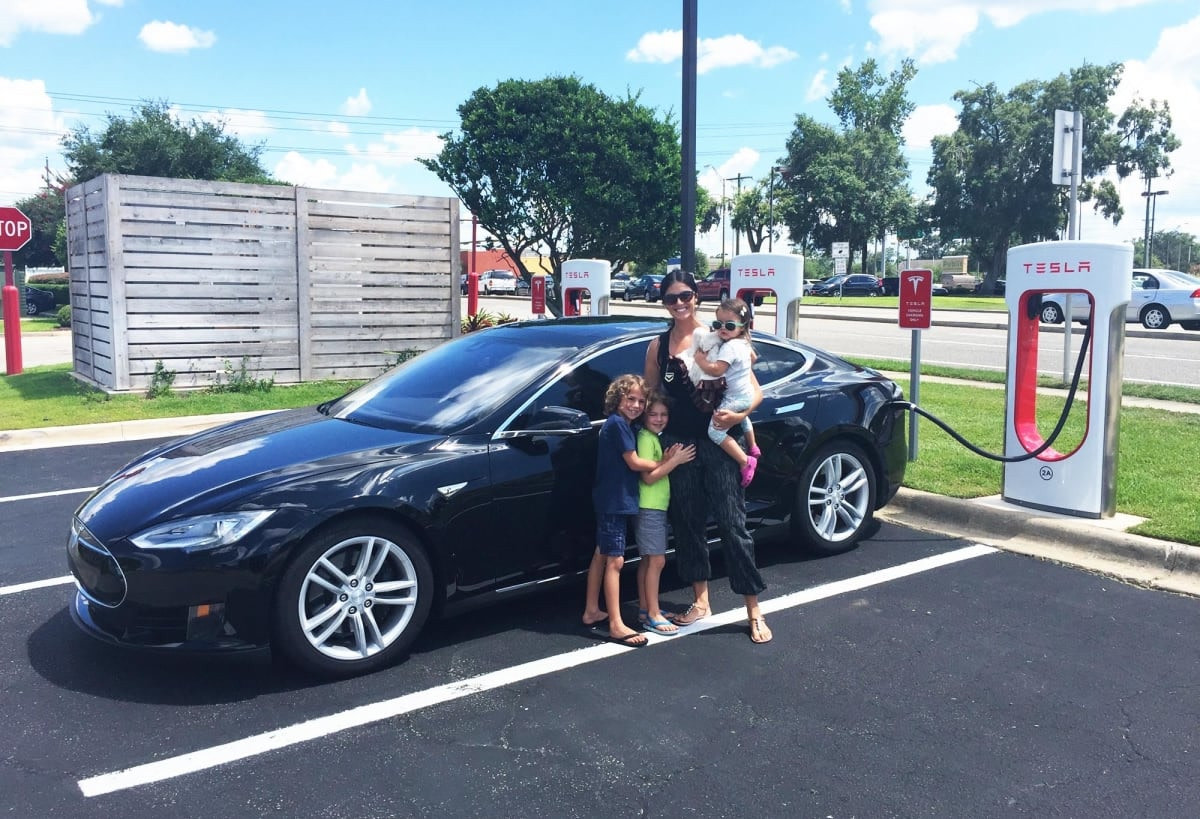 Our first experience with the Model S was in 2013 when we saw our neighbor silently zip by. Our jaws fell open. What is that? While we had heard about the Model S before, actually seeing it was another story. We were initially attracted to what the car looked like, but we quickly learned there was much more to love about this car.
While the reality of owning one seemed like many years away, we knew in that moment that our next car would be a Tesla.
Test Drive Experience
Fast-forward a year: our Model S sightings became more frequent in the Seattle area. Once a Tesla store opened nearby, we were able to really experience the car up-close and personal. My husband, a professional pilot, aerospace engineer and self-proclaimed geek, went on his first test drive in Bellevue, WA at the end of 2014. That was the beginning of "Operation: Own a Tesla" for our family. He was completely sold on the car, the innovative technology, the aerodynamic design, the ease of charging and driving, the power behind the wheel, and above all else the safety ratings. It was also the beginning of his research into the incredible community of Tesla owners and enthusiasts. This is where he feeds his insatiable appetite for progressive innovation, the newest technology and latest information on all Tesla products. We like to call ourselves Tesla groupies, but more than that, we believe in the mission of accelerating sustainable transportation. We were thrilled to become part of the Tesla community after purchasing our Model S, just months after that thrilling test drive.
How the Model S became the Family Car
Clearly, my husband is the reason we bought a Model S. I was supportive but indifferent about buying a "new car". That is, until I drove it for the first time. What I thought would be intimidating, (the touch screen, the charging, regenerative breaking) became second nature on my first drive. The interface is incredibly user friendly and intuitive. Initially, my husband drove the car to work but I think it was just to share his excitement with his like-minded engineer co-workers. After a few weeks, we realized that as a mom to three young kids, I was doing the bulk of the driving and it made sense for me to drive the Model S. We have rear-facing seats where our two older boys sit, and our daughter is in her car seat in the middle row. This still leaves room for four adults, which shocks curious bystanders. It also leaves plenty of room for groceries, diaper bags, toys, backpacks and lunch boxes. Like other Model S owners, we're often stopped by onlookers- some who know about Tesla, and many who have never seen one before. We get the common questions about charging, battery life, and service. We are happy to answer and share our experience but our emphasis is always about the safety rating of the Model S, which is above all else, why it's our family car and why we choose to transport our kids in it everyday.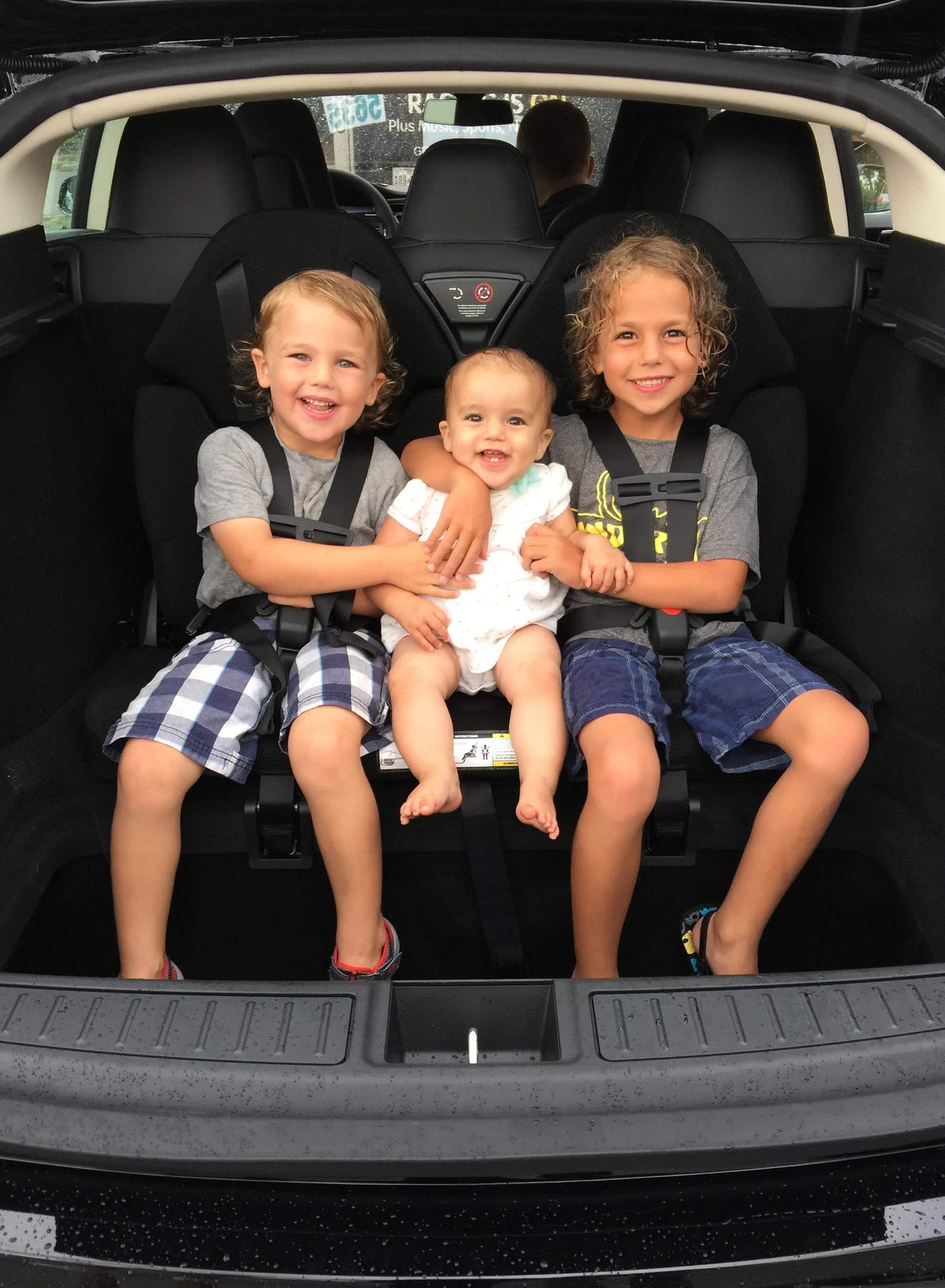 Family Road Trips
Our family has relocated from the Seattle area to Florida, which means we have a lot of new exploring to do. We are active road-trippers with the whole family in the Model S. Most recently we took our longest trip all the way to Key West, FL. The Supercharging experience is so seamless and easy, even with the family. More often than not, we are still finishing our snacks and potty breaks when the car is done charging. In our case, Supercharging is a much-appreciated short break. Our kids are now familiar with the handful of chargers we stop at on our trips. They know what to look forward to, whether it's a restaurant, a toy store, a strip of grass to chase bugs and lizards, or a mall with a bakery or ice cream shop. In our short time of ownership so far, we've seen the charging network expand, making road trips even easier to plan.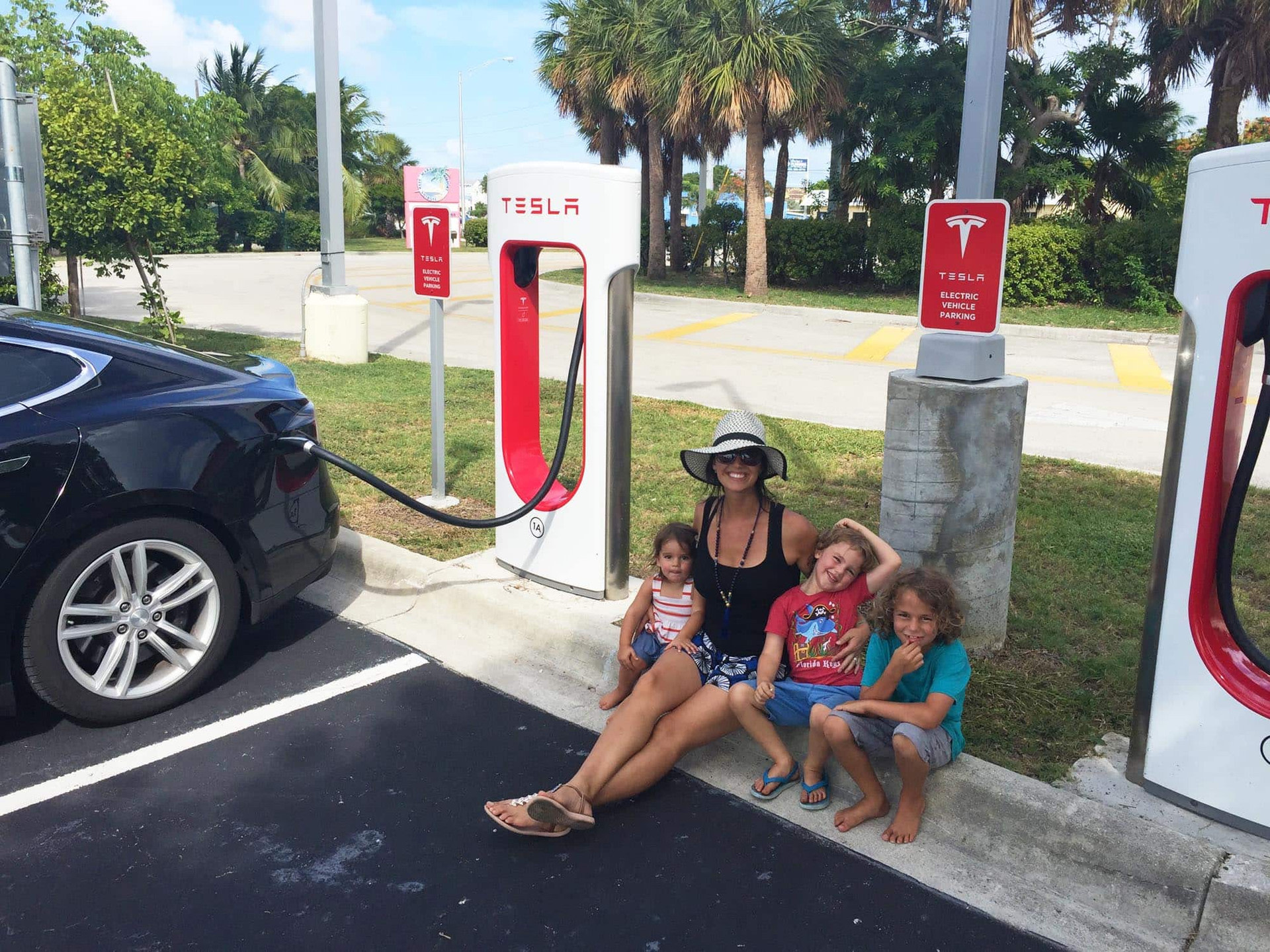 In 2015 my husband and I had the chance to tour the Tesla factory in Fremont, CA. We were in town for a wedding and jumped at the chance to see the factory. It was thoroughly impressive! Being on the younger end of the owners we were touring with that day, we were the only ones with rear-facing seats. Many of them assumed the seats were only good for driving kids around town and said "you won't drive to Disney with kids back there." Well, we are happy to say that we use our rear-facing seats every day, and have actually road-tripped to Disney World with kids in the back! In fact, it was on the same trip that we witnessed the SpaceX Falcon 9 launch and first successful booster stage vertical landing at Cape Canaveral. That's an experience we will never forget.
Owning a Model S has completely redefined the expectations we have for a car. It has raised our standard of safety with the radar, cameras and software. We've realized that the smooth, powerful and efficient electric drivetrain makes for a very satisfying driving experience. Our daily errands are no longer burdened with the concern of using and buying gas. We appreciate how we no longer have toxic fumes and exhaust surrounding us as we heat up the car, load and unload kids and groceries and park in our garage. Our car maintenance experience is pleasant and convenient. We can open our Tesla app on our phone and set the climate before we get in, which is most appreciated by our kids. And thanks to the over-the-air updates, we get the latest Model S software updates with constant improvements to our driving experience. I'm so glad my husband talked us in to owning a Model S. It's safe to say our next goal is "Operation: Own ANOTHER Tesla!"
You can follow our family Tesla adventures, including our road trip to Key West, on Instagram: TheTeslaMom. I want to show other families how it's possible to use the Model S as a family car and share our adventures with fellow EV enthusiasts.