What is better than one Model S? THREE Model S!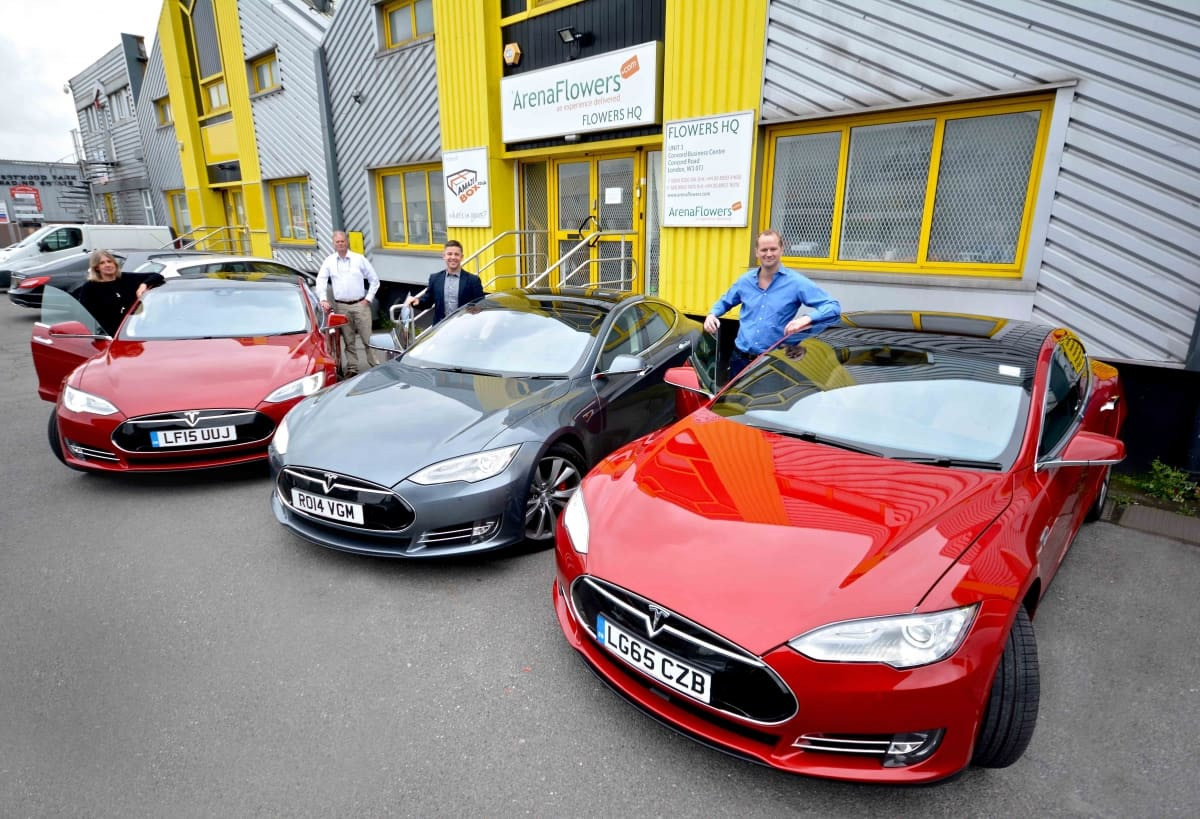 I run a flower delivery business, Arena Flowers, with my father. Following a long drive and a site visit by our management team, the conversation turned to cars. I said I was ready for a new car but was unexcited by the options. I quite fancied a performance car but didn't fancy the fumes and the petrol bill every time I put my foot down.
John, our MD, suggested I try a Tesla - lighting quick and electric and you can charge for free apparently. I scoffed but my father, Richard, owner of many fast cars in his time (including being gifted the president of Zaïre's Lamborghini Countach), perked up. 'I'll go for a test drive and let you know what I think, son!'
Within a year, we'd bought three Model S. Firstly, my mother, Jackie, took receipt of her birthday present from my father, Richard, a Model S 85. Six months later, I collected my Model S P85D. Then this month, John took delivery of his P85, as one of the first European customers of the newly launched certified pre-owned Model S programme.
Here's why all three of us love our very own Model S.
My Model S P85D
Obviously the acceleration and speed are truly phenomenal and the response is instant. It's stunning and like nothing I've ever driven.
It's not a show off's car as it's beautifully quiet and, whilst very stylish, understated. SHUSH, noisy petrol cars, why make so much noise?!
Traffic aware cruise control is brilliant. It wasn't a buying consideration but I love it. I've bored all my friends about it. Endlessly. "How fast is it?" "Forget about that, look at this...it's driving itself! Mental!" It's not a pointless gimmick either. It's a huge benefit for long distance driving.
Long distance travel is relaxing and it costs nothing - I've been to Paris twice since getting the car at zero fuel cost, thanks to the Supercharger network.
The car is constantly improving with new features. I'm writing this as my car awaits the auto steering and self-parking software updates. They look amazing and I am eager to try out the full Autopilot experience.
The technology is satisfyingly good. I run two tech-focussed businesses and my inner nerd deeply enjoys the invisible umbilical cord forever connecting the car back to the Tesla mother ship, the huge screen, the rich customisation options and the ability for the car to improve over time for free. Crazy.
The benefits are great too. Buying my P85D was made significantly more attractive by purchasing through the company, as we will get a 100% year one write down against our corporation tax - worth around £20k - and personally, I will only have to pay benefit in kind tax on the lower 5% rate. Both big benefits.
It also ticks all the other boxes. It's incredibly safe, seats 5 adults, loads of space in boot and frunk, can take car seats for kids, 4 year servicing - all this and more made the conversation with my fiancée about buying it very simple indeed.
The purchasing experience was clean and simple. I popped into Westfield for a test drive with Alex, who was incredibly helpful all the way, loved the car, configured the options on his iPad using the very intuitive design studio on the website, and I placed my order there and then. Job done. Buying a supercar can't get much easier than that.
It's guilt free enjoyment - this is key. I used to have a very fast sports car and every time I put my foot down, I could feel the money flowing out of my wallet. It's truly special to know you're having the smoothest and fastest drive of your life but yet it's costing you either very little (home charging) or nothing (Supercharging) AND you're not harming the environment either. Unique.
My parents' Model S 85
Jackie
Traffic aware cruise control. The very best thing is setting the maximum speed and the required car lengths behind the car in front.
Long range. Being able to drive long distances with no stress or anxiety.
Such a relaxing drive. The comfort and ultra-quiet ride are also a real pleasure.
It's amazing being able to travel with no fuel costs.
Richard
50% driving stress reduction due to a number of factors including the apparently effortless, serene, silent movement. I feel a bit like an owl floating about.
Astounding acceleration and styling for a 5 seater saloon.
Traffic aware cruise control. I feel as if l am driving the future.
With free charging from solar panels or scheduled charging with off peak electricity, there's no need to drive economically.
Love the updates and the excitement waiting to see whole dashboard of the car change miraculously with the new firmware coming.
The new crowd learning between all Tesla owners that will improve the autopilot. Makes one feel part of an exclusive club.
John's Model S P85 (with rear jump seats)
Amazing space and design. Nothing as elegant on the market for shifting 4 kids and spouse about.
Phenomenal drivetrain. I've never experienced acceleration like it in any of my previous cars which have all been top end German marques.
Over the air updates. The fact that you can expect the car to improve over time is just amazing.
Outside of the car itself I have to say the Superchargers and the Supercharger network are an incredible feat.
So that's thumbs up all round then!
As you can imagine from our adoption of sustainable transport, our business has a big focus on positive ethical behavior and so when we produced a 3D tour of our flower delivery warehouse, we adopted another Tesla custom and put a Model S Easter Egg into the virtual tour with an environmental message that launches a P85D YouTube video. See if you can find it here!
*Free Supercharging is now allocated on an annual basis. To see the most current Supercharging rates, click here
*To see the most current BIK rates, please click here