Model Y Earns 5-Star Safety Rating From Euro NCAP
Achieves highest Euro NCAP Overall Score under the new protocol
At Tesla, vehicle design is an iterative process through which we aim to make some of the safest cars on the road even safer. Today, Model Y is our latest vehicle to earn a 5-star safety rating from the European New Car Assessment Programme (Euro NCAP).
As part of this assessment, Model Y received the highest Overall Score among any vehicle tested under Euro NCAP's newest, most stringent test protocol. This was based on an evaluation of Model Y's ability to protect adults, children and vulnerable road users like cyclists and pedestrians, as well as its safety assistance features.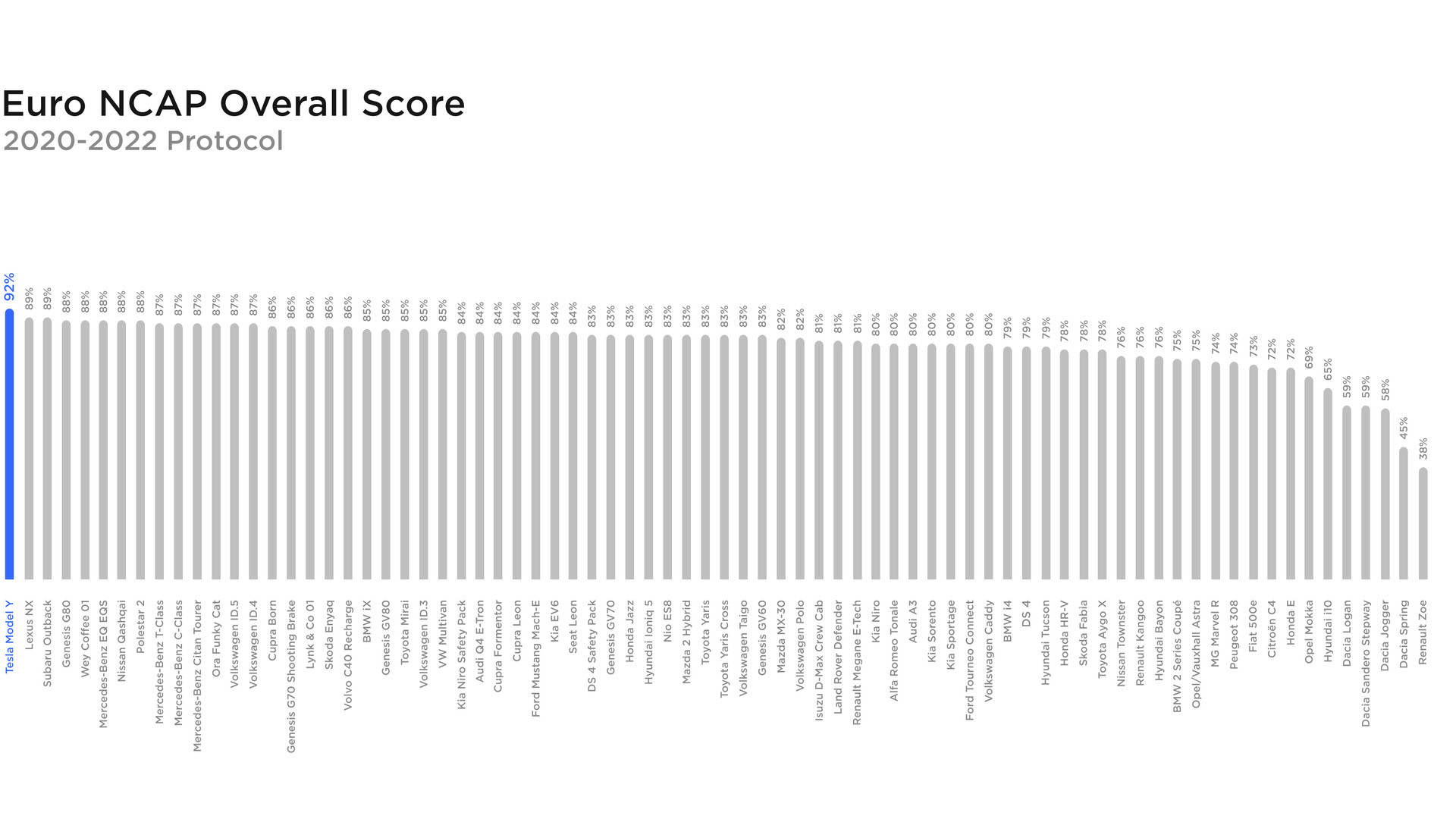 Model Y also achieved an outstanding score of 97% in the Adult Occupant Protection category—once again the highest of any vehicle tested in this protocol. This category score is determined by a series of frontal, side and rear whiplash tests in addition to an analysis of several other safety attributes such as rescue, extrication and post-crash safety.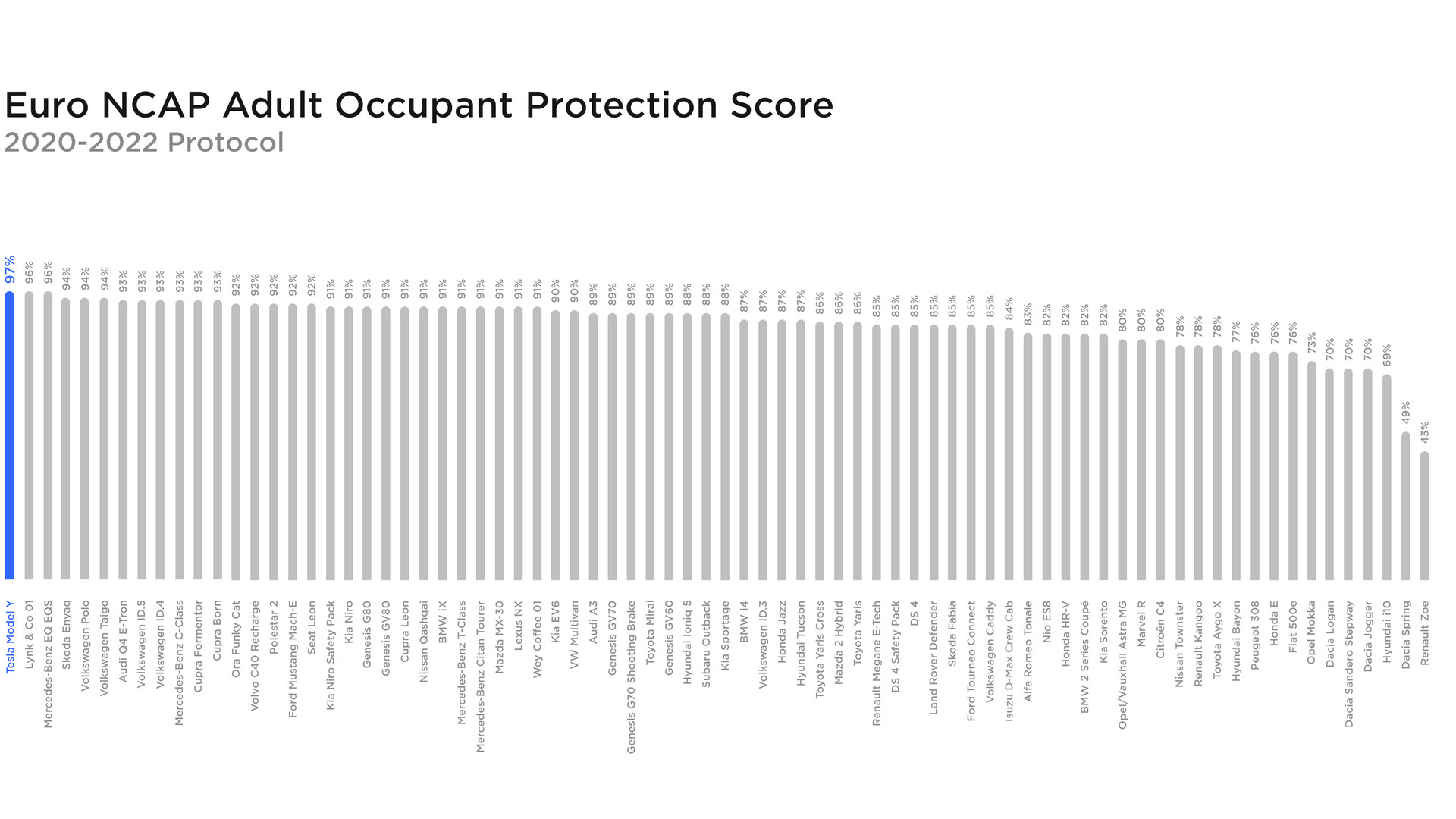 Continuous Safety Improvements
Euro NCAP used new Model Y vehicles featuring our latest manufacturing techniques and safety features to complete their assessment:
Rear Underbody Casting: The rear underbody casting combined with our fortified battery pack provides immense crash strength to the safety cell, helping to maintain compartment integrity. This strength allows our advanced restraint systems to deploy effectively inside the cabin, holding occupants in place and providing protection against cabin intrusions.
Far-Side Airbag: Provides additional protection during side impacts, especially when there are two front occupants. This airbag deploys between the front seats to help prevent head injuries that could be caused by occupant-to-occupant contact.
Multi-Collision Braking: Automatically applies the vehicle braking system after a collision to help prevent a secondary impact.
Collision Avoidance Driver Monitoring System: Uses direct monitoring to detect a distracted driver and automatically adjusts the sensitivity of the Forward Collision Warning system to be more reactive.
Top Score for Tesla Vision
Model Y also received a leading score of 98 percent in Euro NCAP's Safety Assist category. This result was achieved with Model Y vehicles equipped with Tesla Vision, our camera vision and neural net processing system that now comes standard in all Tesla vehicles delivered in North America and Europe. This score was a result that many did not believe was possible without using radar.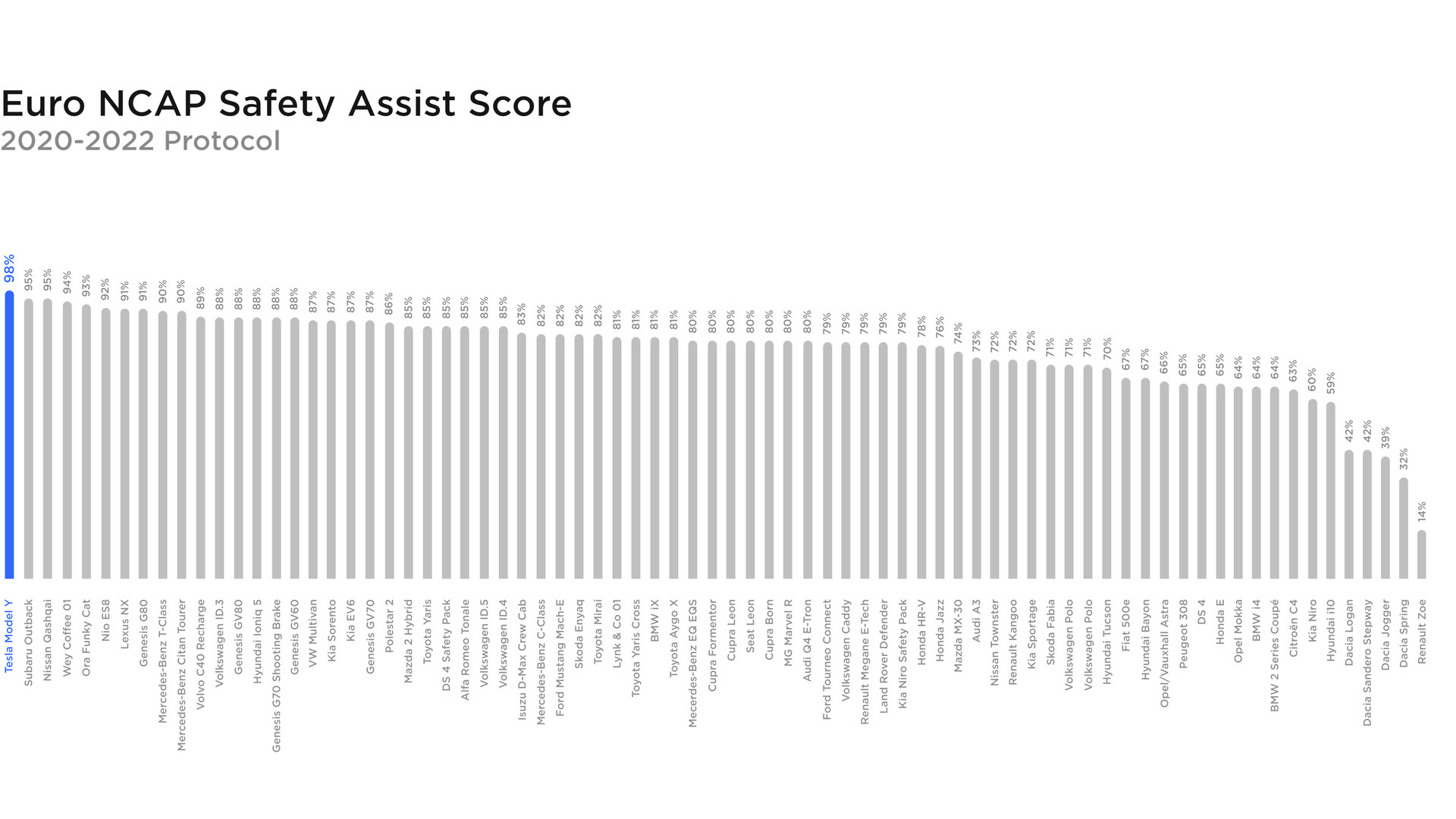 Additionally, Automatic Emergency Braking continues to see major improvements during vehicle turning-across-path scenarios and when reversing with vulnerable road users in its route. Model Y also scored full points in the Lane Support System category. Lane Support Systems help reduce accidental road departures–one of the main causes of single vehicle and frontal crashes according to Euro NCAP.
Our team is dedicated to improving driving safety. Achieving some of the highest safety scores ever awarded doesn't give us pause—it motivates us to make some of the world's safest vehicles even safer.
Note: This recognition comes alongside Model Y's 5-star rating from the Australasian New Car Assessment Program (ANCAP), which was also announced today.