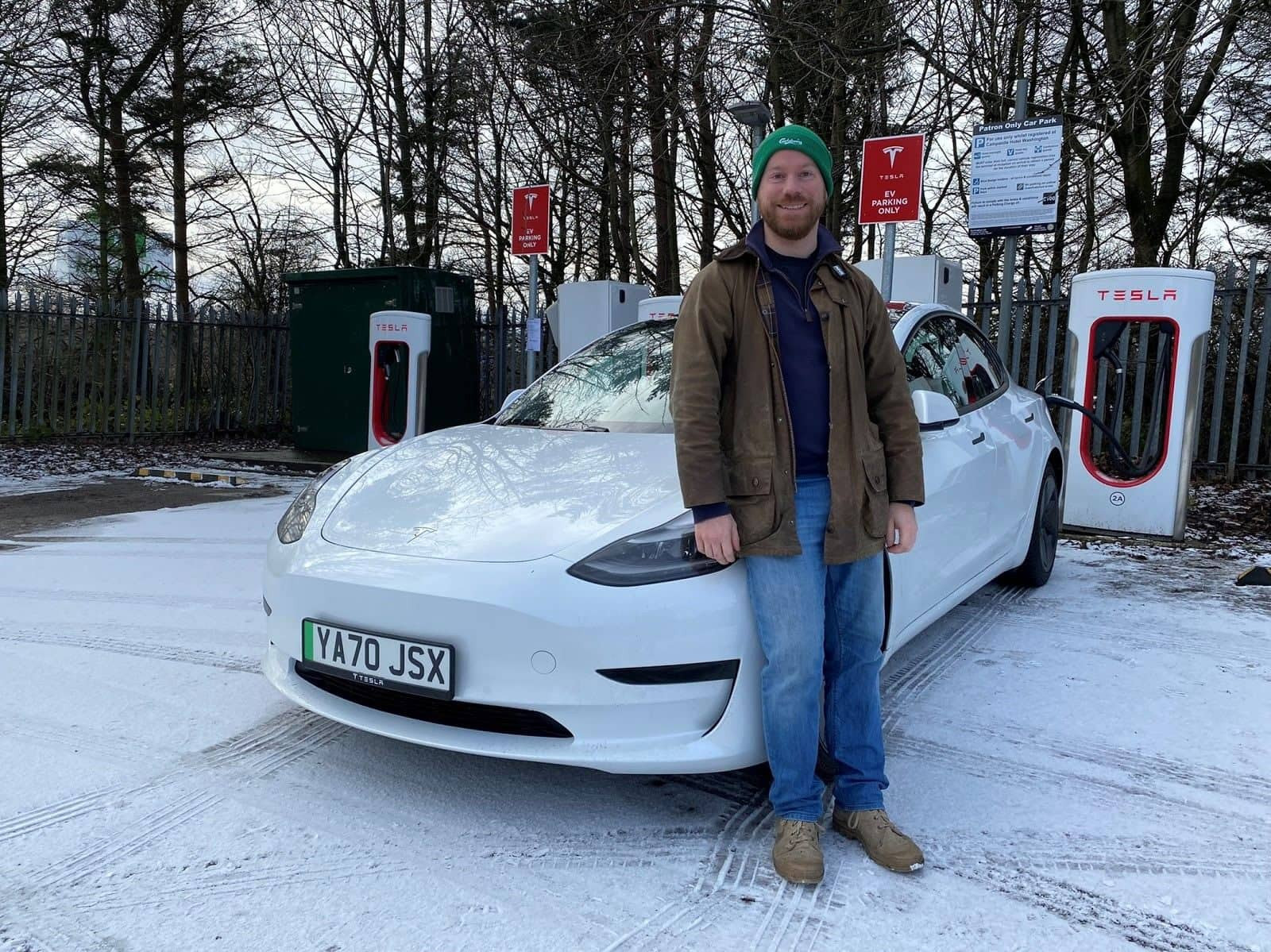 Model 3 is my first electric car, I hadn't even driven or owned so much as a hybrid before. Throughout lockdown we've been trying as a household to become more environmentally conscious which has included dietary and shopping changes. Transport was a very obvious and straightforward change we could make. I've also always loved technology and although you wouldn't catch me queuing for the latest phone model, the leap forward in technology coming from many EVs was a bit too much to resist!
In October last year I joined a company called Elmtronics, who install EV chargers. Working in the industry, they wanted to set an example and brought in a policy to encourage employees into Electric Vehicles, so I was lucky enough to be able to choose from a number of EVs for my company car, one of which was the Tesla Model 3.
Before I decided on Model 3, I was fortunate 
to have a bit of guidance from our company Sales Director, Simon. He's driven a Model 3 since the end of 2019 and gave me an 'extended test-drive' of his for a few evenings. I was really impressed at the time and even joked that he'd ruined any other car for me! Whilst making a decision at the tail-end of last year there were a lot of new product launches from other manufacturers. In the end, the Model 3 won out on a combination of style, technology, and the Supercharger network. Working in the charging industry myself, I have to credit Tesla on the work they have done to lead the way (pun intended) with rapid charging.
I have both Superchargers and a third party high- powered charging installation about a 10-15 minute drive away, so I've had chances to compare the two. The Superchargers are definitely easier and cheaper. You can just 'plug and play' without needing an app or fob (the play part being mostly Beach Buggy Racing). The charging is nice and fast, especially with the automatic preconditioning of the battery, which kicks in through the navigate-to function. There have always been plenty of bays free and on my first visit, other Tesla drivers were very helpful with some socially-distanced advice. That is a really nice thing I see in the EV community as a whole.
I've been able to drive a few EVs in the last few months and the experience of the Tesla just stands apart as being incredibly intuitive. The controls make a lot of sense and it seems very efficient to have everything run through the centre console screen. As a bit of a child at heart I really love the Toy Box and Entertainment, including games. Compared to many other apps out there, the
Tesla app is lightyears ahead of some others, especially with the simplicity of the keyless entry and the controls available remotely. The preheating functionality from the app was an absolute dream during the cold snap we had through February, shaving a few minutes off my commute. I also used
 it after a long, cold (and slightly wet) walk so we had a nice toasty car to come back to - it's hard to argue against the benefits there!
In the current climate I'm extremely grateful to have a good job in a growing industry with a supportive employer who believes in pushing forward electric mobility. Just having a company car like the Model 3 feels like a great privilege. One thing that I'm thankful for is to share the experience with my team and other colleagues, lending them the car for a weekend or lunchtime. Many of them have kids so it's great to hear how excited their families have been to try it out and play some games.
This year, we'll be rolling out more Model 3s for the sales and operations teams. Even in this new world of video conferencing and reduced travel, longer distance journeys are still going to be a consideration. The Supercharging network is a big part of making those longer journeys more accessible. Aside from charging, I think you'd struggle to find many employees who aren't excited or happy after a few drives in a Tesla. It's a unique experience.