Family First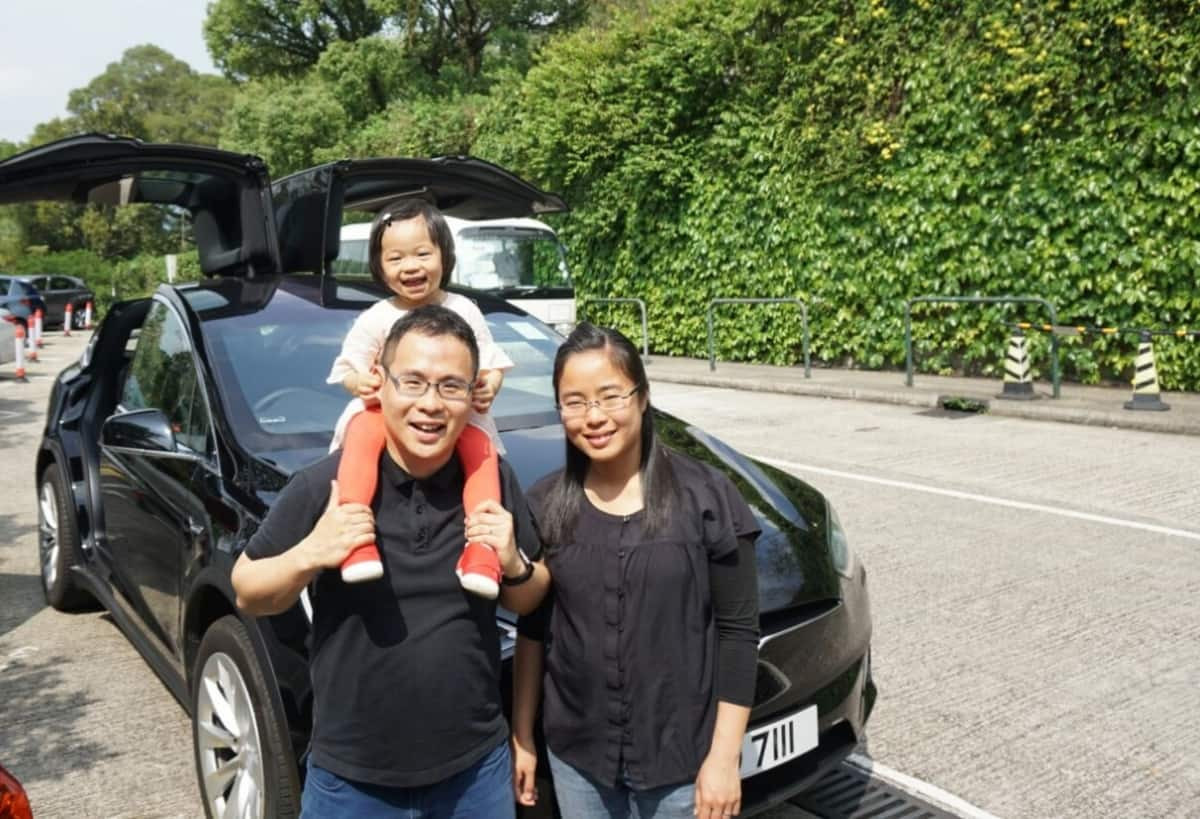 "I bought a Tesla because I knew it is one of the safest cars available for my family."
When you become a parent, your lifestyle and priorities change. Ever since we adopted our daughter, Jane, almost two years ago, everything centres on her and keeping our family safe is of paramount importance to myself and my wife, Emily. I know I can't control other people on the road and whether or not they drive poorly, so I bought a Tesla because I knew it is one of the safest cars available for my family..
From Model S to Model X
I had been a happy Model S owner for two years, but when Model X arrived in Hong Kong this year, I made the switch without even test-driving it. I have always wanted a 7-seater, but the only cars on the market were bulky-looking family vans. Model X gives you that seating capacity without sacrificing its look. Additionally, the two years with my Model S gave me total trust in the brand. I know that the battery support structure provides great impact protection, and because there's no engine at the front, there's a large impact-absorbing crumple zone.
Model X's Falcon Wing doors are practical and wonderful. If you're a parent, then they are sent from heaven. In other traditional family cars, it is such a strain to bend over and buckle your child into their car seat, and someone's head always gets bumped. The door's winged design means there's so much space to get to the back rows –  it's the easiest "baby-putting-in-car" you'll find! My daughter is 21 months old and loves the doors. She loves every time the wings go up – even she knows they're futuristic and impressive!
Quality Time Together
When our daughter came along, it was important for us to be closer to my parents. We found a ground-floor apartment in Tai Po that is within walking distance of my parent's place and came with parking so we can charge our Tesla. Each week we drive as a family to see my sisters in Yuen Long and go for Dim Sum. It's a 60km round trip, but everyone has a lot of space; our helper can join us and my dad's wheelchair fits comfortably in the back. Model X has the space and functionality of an SUV but sits much lower to the ground. Thanks to the car's air suspension, I can slightly lower my Model X to make it easier for my dad to get in – that's something we wouldn't get with other SUVs. 
Family Economics 
I have only had my Model X for around 45 days, but I've driven 4,500km! I use it for business, family activities and leisure time – everything. I'm also planning to add my Mainland China licence plates to it, so I'll be adding even more kilometres. On top of charging with Tesla's Superchargers, our electricity provider CLP has set up many free chargers around the city that can be used with a Tesla adapter. Economically, having a Tesla makes sense in Hong Kong.
Winning Hearts in Hong Kong
When I think about the future for my daughter and see the advancements in self-driving technology, she may not even need a driving licence anymore. People in Hong Kong don't dwell on yesterday. While there are many traditions we hold on to, people are quite open and willing to adapt to new things as long as they are proven to be beneficial. I think this is why Tesla is such a success here. My parents are quite traditional in some ways, but also forward-thinking in others and they completely love Tesla. Model X has brought our family closer together, and it meets everyone's needs. That, for me, is a great achievement.