Transforming Automotive Service
Several years ago Tesla began designing Model S from the ground up, re-imagining what a car could be. Then we enhanced the car-buying experience, creating stores to inform and delight customers. Now that Model S is on the road, we are bringing 21st century service to our customers as well. First, forget everything you know about service at a traditional dealership. This is different. We specifically designed Tesla Service around the advantages and opportunities made possible by Model S.
TESLA SERVICE IS COMING TO YOU
Because our customers reserve Model S in advance, we already know where the first 12,200 cars will be delivered. This makes it possible for us to open service centers where we know the highest density of Model S will be located. From San Diego to Montreal, Miami to Vancouver, we are almost tripling the number of Tesla Service Centers. By March 1st of next year, more than 90 percent of all current Model S reservation holders in North America will be within 100 miles of a Tesla Service Center and more than 80 percent will be within 50 miles. When it comes to servicing your Model S, we are making convenience a priority.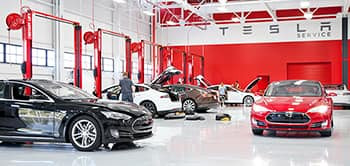 Tesla Service Centers do not look like your typical auto shop – the floors are spotless and the air is free of exhaust. They are uniquely equipped to provide the exact service your state-of-the-art vehicle needs.
Moving beyond automobile service of the past 100 years means bringing service to you in a new way. In addition to making an appointment at one of our Tesla Service Centers, a mobile technician – we call them Tesla Rangers – can come to your home or office to perform an annual inspection, warranty work, or almost any other work that doesn't require a vehicle lift. This is an entirely new way to keep your car running at its best every day.
TESLA SERVICE IS EVERYDAY SERVICE
Tesla Service is more than a once-a-year check-up. To us, service means doing all we can to ensure your vehicle is running at its best every day. Model S is by design a low-maintenance vehicle. There are no spark plugs, timing belts or oil filters to replace. Model S will never need a smog check or a typical oil change. In fact, the only oil needing to be changed is in the gearbox, which on average needs replacement once every twelve years.
Model S has at least a thousand fewer moving parts than a traditional car – no internal combustion engine, no transmission, no mufflers or catalytic converters – thereby lowering the chances of things breaking down or wearing out. Thanks to regenerative braking, even brake pads will last longer on Model S than on other cars.
During your scheduled annual inspection (or after 12,500 miles), a service technician will spend several hours with your vehicle, conducting a full assessment of things such as brakes, tires, suspension, steering, lighting, and safety components. These scheduled check-ups make sure your Model S is running at its best. Unlike service contracts at most automotive companies, Tesla Service includes all replacement parts such as wiper blades and brake pads that wear out from day-to-day driving, excluding tires.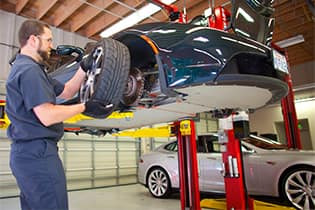 Between yearly check-ups, your Model S is designed to run routine, self-diagnostic tests on key components of your car. This allows Tesla to remotely monitor your vehicle's functionality – with your permission, of course. From time to time our service department can receive an update on how your car is performing. If a potential issue is found during self-diagnostics, Model S can alert Tesla's Service team, and a message may also pop-up in the instrument cluster to make you aware of the issue. This makes it possible to identify and resolve issues quickly, while keeping your Model S running at its best.
SOFTWARE UPDATES THAT MAKE A DIFFERENCE
Tesla utilizes cutting-edge software to control Model S vehicle functionality. As a result, many of your vehicle's service interactions will be in the form of a software update using your car's Internet connection or a Wi-Fi network. These updates are designed to improve functionality, reliability and occasionally add new features to your car.
Similar to the ease and simplicity of updating your smart phone or laptop, you'll be able to install enhancements to your Model S at your convenience from the comfort of your own garage. We are currently working on updates that will include a speed warning that chimes when you're having too much fun on the highway, additional stereo system settings, and memory seat functionality. Some of these enhancements are the direct result of customer feedback. How many automakers will add new capabilities to your car after you've purchased it?
Here's an example of how this can work. Like many EVs, Model S was designed without 'creep.' Creep is what the automotive world calls the slow, forward roll of an automatic transmission car when you first remove your foot from the brake. We received feedback during the Get Amped tour from customers who said they missed 'creep' and wished Model S had it. As a result we are working on a software update that will enable every Model S to have a 'creep' option which customers can enable or disable using the 17" touchscreen. These types of vehicle enhancements and software updates are all made possible by the groundbreaking technology included in your Model S.
NORTH AMERICAN SERVICE PRICING
In North America, a one-year (or 12,500-mile) service plan costs $600. This price covers your annual inspection and all wear and tear parts, excluding tires. This plan is paid for at the time of your annual (or 12,500-mile) inspection.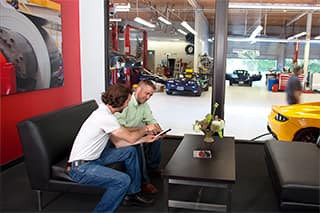 A pre-paid four-year service plan is available for $1,900 and includes four annual inspections up to 50,000 miles. This plan is paid for within 30 days after delivery of your Model S.
If you're interested in having a Tesla Ranger come to your home or office to provide service, there will be an additional flat fee of $100 per visit. We've had Tesla Rangers on the road since we first started delivering Roadsters and the response from customers has been incredibly positive. We've revised our pricing such that Ranger Service for Model S and Roadster is now a $100 flat fee per visit, regardless of how far away you live from a Tesla Service Center.
We know sometimes it's nice to have Ranger Service and sometimes it's nice to visit a Service Center, so we are also offering a four-year Anywhere Plan that combines Tesla Service and unlimited Ranger Service for four years or 50,000 miles for $2,400. We've just launched a new service webpage that goes into greater detail about service pricing and options.
WE'RE HERE FOR YOU
Our goal is to take care of your car in a way no one has ever done before and we think Model S is the world's first vehicle to get better and better the longer you own it. We look forward to developing a long-lasting relationship with you as Model S rolls into your garage. We have a team of people ready to take care of you, and you are always welcome to give us a call.
Joost de Vries
Vice President, Global Service

Interested in keeping up with Tesla Motors?
For more information on Tesla Motors and its products, please visit: teslamotors.com
For more information for Tesla Motors investors, please visit: ir.teslamotors.com
For the latest information from Tesla Motors, including press releases and the Tesla blog, please visit: teslamotors.com/press
Certain limitations and exclusions apply to the coverages discussed above; please refer to the Tesla Service plans and New Vehicle Limited Warranty for coverage, terms and conditions. For complete information on coverage and limitations, contact Tesla directly.
Forward-Looking Statements
Certain statements in this blog post, including statements regarding Tesla Service Center locations, Tesla services and vehicle performance characteristics, are "forward-looking statements" that are subject to risks and uncertainties. These forward-looking statements are based on management's current expectations. Various important factors could cause actual results to differ materially, including the risks identified in our SEC filings. Tesla disclaims any obligation to update this information.