Crossing Canada in a Model X towing a Camping Trailer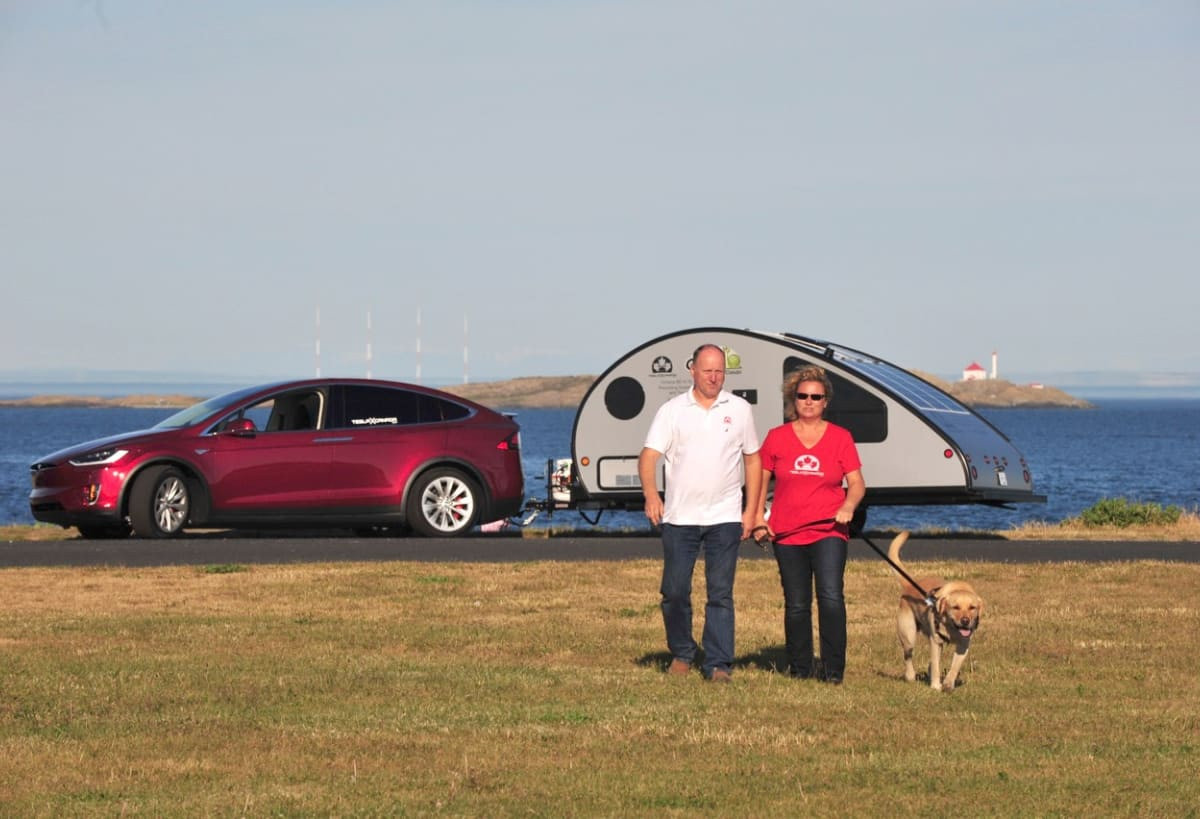 One wild idea: Hubby Rolf and I got one of the first Model X's delivered to Canada. We didn't wait long to put it to a rather strenuous test. A week and a half after we took delivery, we started on our cross Canada trip of 10,000km/6,200mi with the brand new Model X towing a camping trailer.
We've always loved camping, but after switching to a Model S several years ago, we didn't want to replace our aging motorhome with another gas-powered vehicle. At the Model X launch party in Fremont, we got the idea to get a lightweight, aerodynamic camping trailer instead; an Alto 1723 from Safari Condo in Quebec. Since we knew we would be one of the first Model X owners in Canada, we wanted to take this opportunity to promote what we have come to passionately believe in: sustainable energy and transportation. What better way to do this than towing a camping trailer with a Model X all the way across the country!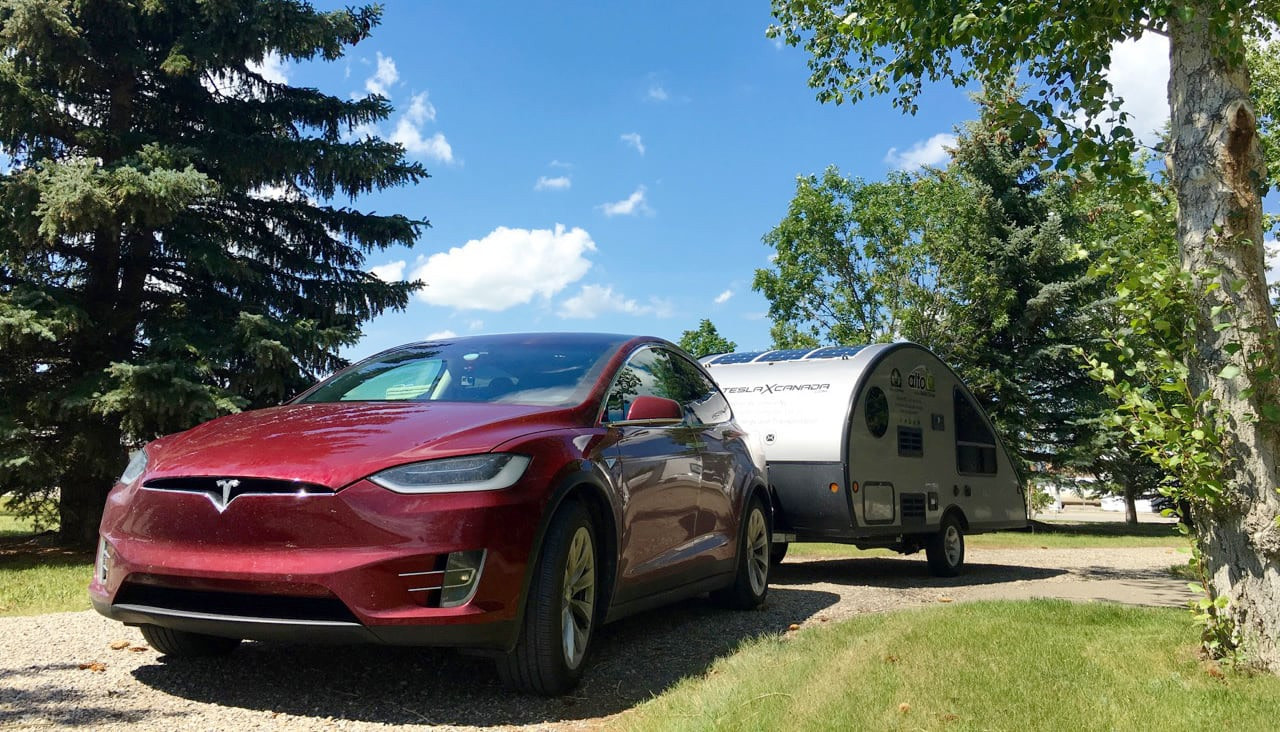 Model X camping, a normal sight for us.
Campground charging vs. Supercharging
This is not a small adventure, since the Supercharger Network is still in its infancies in Canada. We got spoiled on our 15,000km/9,300mi round trip Victoria BC/Ft. Lauderdale FL in a Model S this past spring. The Superchargers make long-distance travel in a Tesla so easy and enjoyable! In Canada, it's a bit more of a challenge with no Superchargers between Red Deer, Alberta and the Great Lakes. We have a different strategy: drive slower, drive less and charge at campgrounds overnight. In other words: Enjoy this beautiful country!
First week challenges
The first week got us from Victoria to Valemount BC. Initially, we were quite dismayed by the reduction in range due to the trailer. Instead of 405km/250mi fully charged, we now only got about 220km/140mi. It turned out, though, that by going slower (70km/45mi/h) without air conditioning and on range mode, we could cover even distances that brought us higher into the mountains. Since then, we discovered that we can even make up to 300km/185mi with the trailer on a full charge on the highways through Saskatchewan where there's little in elevation changes. Some tailwind is required for that, though.
A beautiful, well thought-out, ground-breaking vehicle
Driving in a Model X has been very enjoyable, to say the least. We can't seem to stop enjoying the look of our Signature-red beauty. It's roomy, very comfortable and very well thought through. I love how easy it is for me to hook up my dog to the seatbelt on the backbench thanks to the falcon-wing doors. I got very excited about the seat cooling system and how well the air conditioning works even in the back. We opted for the six-seat version and are very happy with the extra space. It's a joy to be a passenger in this car, even in the second row! But the best feature of all is the huge panoramic windshield. We are driving through one of the most beautiful areas of this world right now and can enjoy the magnificent view to the fullest! The scenery is breathtaking, and we so enjoy looking at the snow-capped mountains or the vast openness of the prairies without any obstructions. Some people have complained about the windshield, so Tesla provided us with the sun screen even without us asking. We tried it out once at home and decided to not take it onto this trip. No way would we reduce this new-found openness.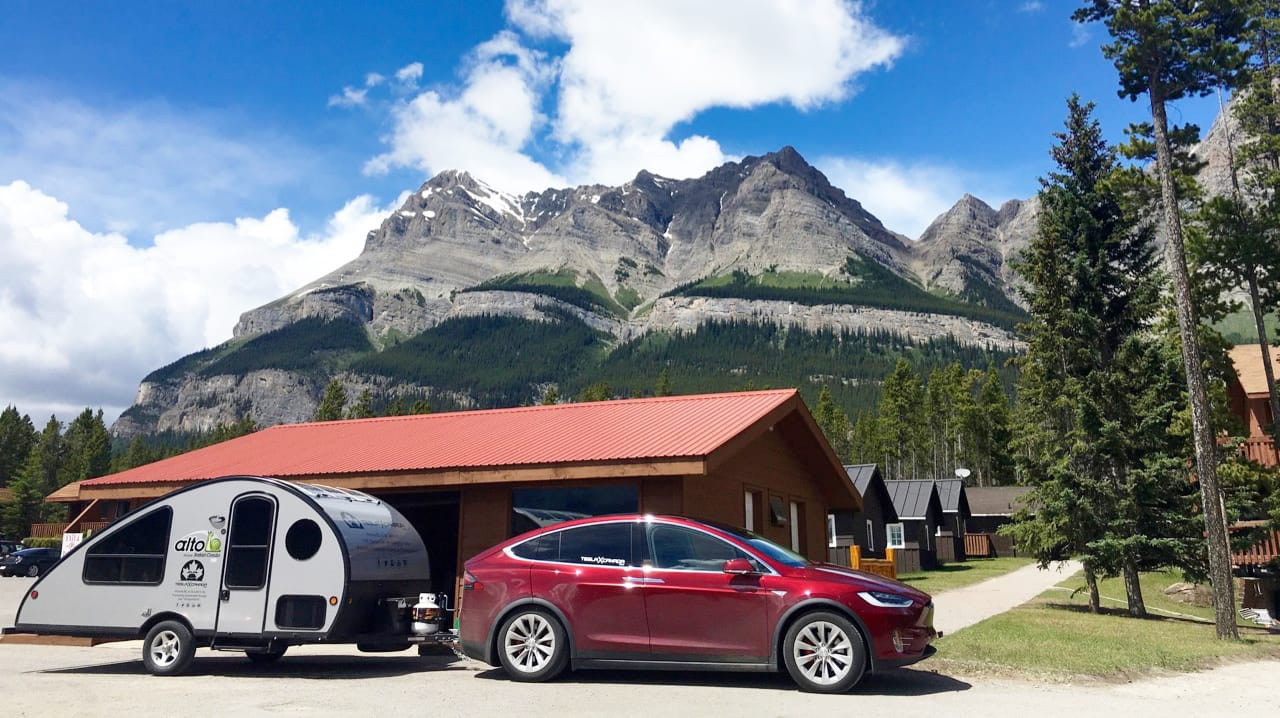 Enjoying the Rockies to the fullest with the panoramic windshield
Connecting with people on our 100% electric adventure
Wherever we go, the Model X is getting a lot of attention, and that doesn't surprise us. We're always happy to show the car and talk about its features. We don't seem to ever want to stop talking Tesla. In fact, we have been on the Podcast 'Talking Tesla'! Many people are also intrigued by our teardrop-trailer with the retractable roof and the eight 100W semi-flexible solar panels on its roof. That's how we run the trailer while the Model X charges over night at the campground.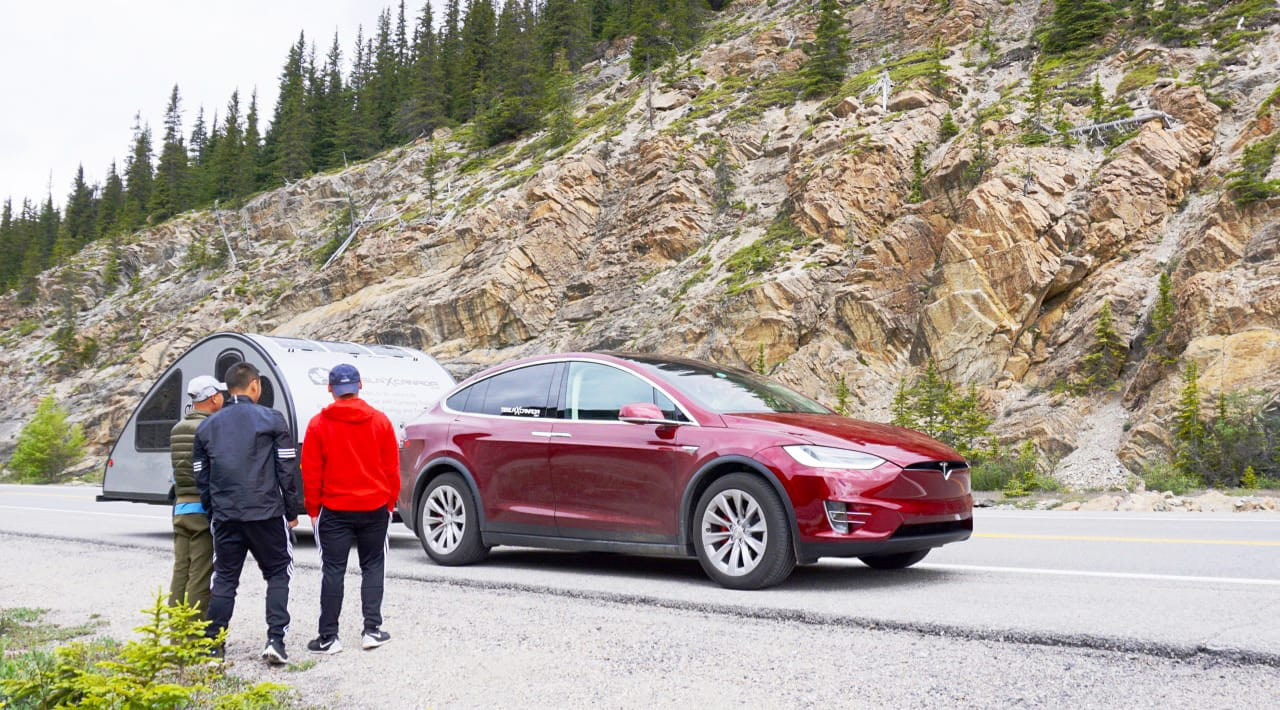 With the Model X, any stop draws a crowd
We have recently attended car shows in Calgary and Red Deer, Alberta and also showed our car and trailer in Moose Jaw, Saskatchewan. If you are interested in following us across Canada, please go to our blog www.TeslaXCanada.com. We expect to be on the road for at least another 2 ½ months. We are going all the way to St. John's Newfoundland after all.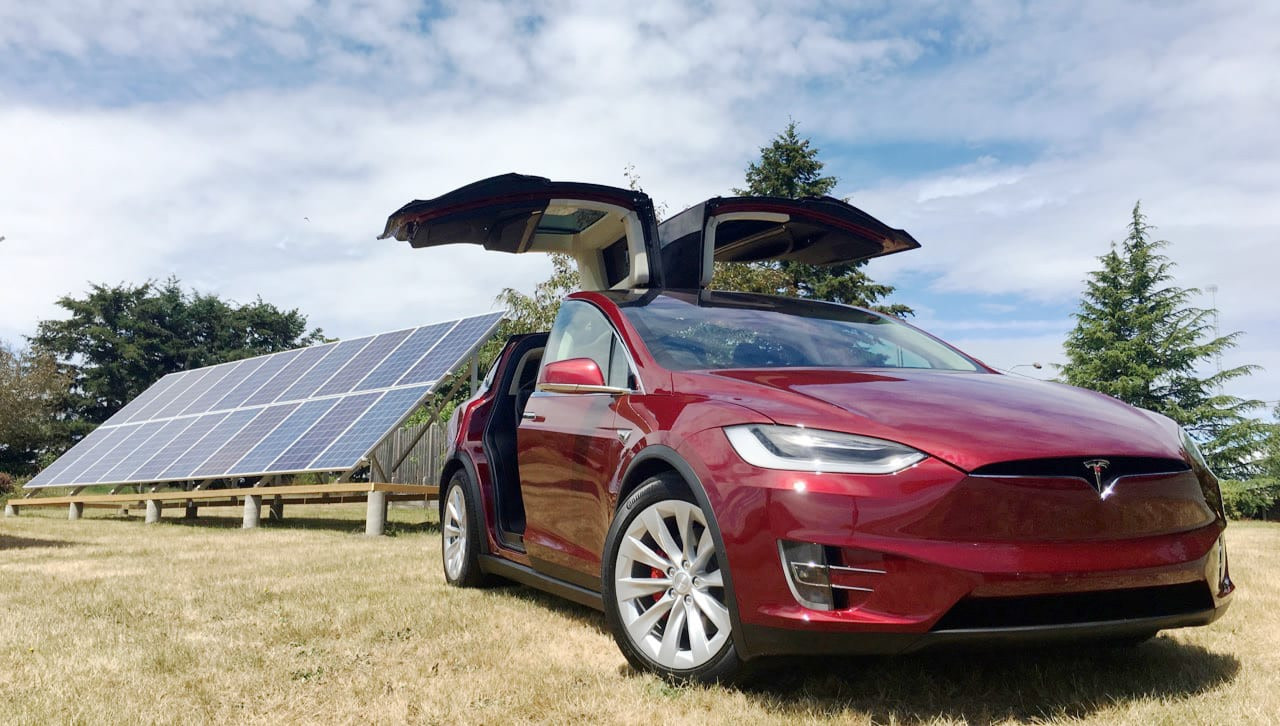 Our mission- promoting electric cars and solar energy