Tesla vs. Top Gear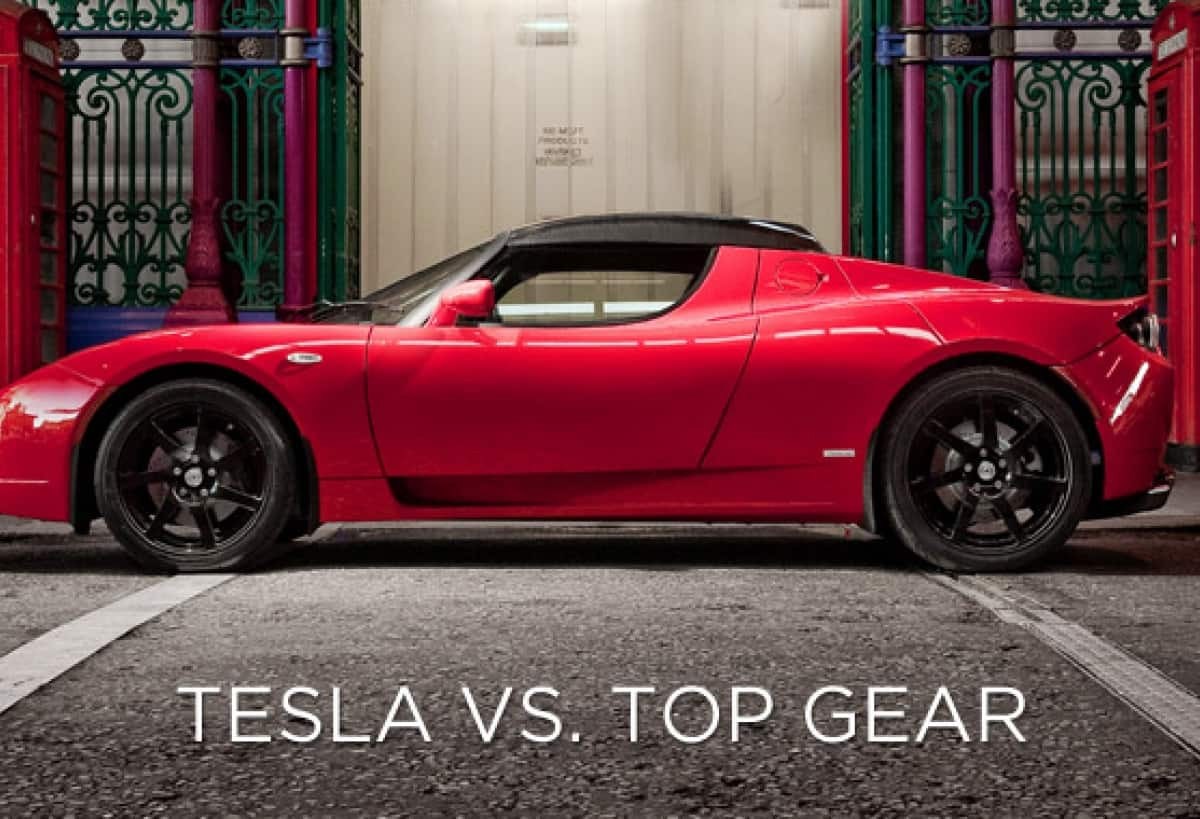 Background
On Tuesday March 29 Tesla sued the BBC television programme "Top Gear" for libel and malicious falsehood.
When Top Gear reviewed the Tesla Roadster, the episode that aired contained lies and misinformation about the Roadster's performance, behaviour and reliability. Tesla reluctantly took legal action after its repeated attempts to contact the BBC, over the course of months, were ignored.
In the episode, Tesla Roadsters are depicted as suffering several critical "breakdowns" during track driving. Host Jeremy Clarkson concludes the episode by saying that the Roadster doesn't work.
Specifically, Top Gear misrepresented that:
The Roadster ran out of charge and had to be pushed into the Top Gear hangar by 4 men.
The Roadster's true range is only 55 miles per charge (not 211).
One Roadster's motor overheated and was completely immobilized as a result.
The other Roadster's brakes were broken, rendering the car undriveable.
That neither of the two Roadsters provided to Top Gear was available for test driving due to these problems.
The breakdowns were staged and the statements are untrue. Yet the programme's lies are repeatedly and consistently re-broadcast to hundreds of millions of viewers worldwide on BBC television and web sites, and on other TV channels via syndication; the show is available on the internet, and is for sale on Top Gear DVD's around the world.
Tesla wants people to know the truth, and correct the public's misperceptions. The Roadster and its EV technology, as well as EVs generally, have been unfairly and viciously maligned by Top Gear.
Tesla simply wants Top Gear to stop rebroadcasting this malicious episode and to correct the record, but they've repeatedly ignored Tesla's requests.
Updates
Complaint
Click here to read the Particulars of Claim.
The Tesla Roadster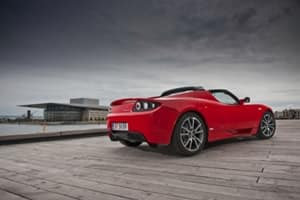 The Tesla Roadster is the only serially-produced electric supercar in the world. The hand-built, carbon fiber Roadster accelerates from 0-60 in 3.7 seconds, and reaches an electronically-governed top speed of 125 miles per hour. Offering 295 pound feet of torque, the Roadster Sport offers the performance of a supercar without a drop of gasoline.
The Roadster travels 211 miles on a single charge (based on European Electric Vehicle Combined Cycle). The charger is built on-board the Roadster, so it can plug into any conventional 220-v electrical outlet.
Roadster owners typically "top off" by plugging the car in when they come home at night – and every single morning they wake to a full charge, without ever visiting a gasoline station. The Roadster does not require oil changes, muffler system repairs, spark plugs, pistons or other costly and time-consuming service and maintenance associated with internal combustion engine cars.
The Tesla Roadster 2.5, released in 2010, is Tesla's fourth iteration on the electric supercar. It embodies Tesla's philosophy of continuous improvement and responds to customer feedback to create the best example of a Roadster. In addition to a new front fascia and rear diffuser reflecting the future of Tesla design language, the 2.5 also features:
Directional forged wheels available in both silver and black
New seats with improved comfort and larger more supportive bolsters
Power control hardware that enables spirited driving in hot climates
An optional 7" touchscreen display with back-up camera
Improved interior sound reduction including new front fender liner material make the cabin even quieter
The Roadster has won distance rallies including e-Silvretta and e-Miglia in the Central Alps; France's Monte Carlo Alternative Energy Rally; and Zero Rally 2010, a zero-emission race from Oslo to Stavanger, Norway. In September 2010, a Tesla Roadster sponsored by TAG Heuer was the first electric GT car to complete a world tour.
The body and interior of the Roadster are built in Hethel, UK, and the final assembly is done in Menlo Park, California. The Roadster has a base price of £87,945 and the Roadster Sport starts at £102,895.
For full Roadster specs, click here.
Roadster Reviews:
How to drive fast, have a good time - and still save the planet, Boris Johnson, The Telegraph, March 2009
The A-Z of the Future: Tesla Roadster Sport, EVO, February 2010
Racer or Commuter? Just What is the 2011 Tesla Roadster Sport?, Nikki Gordon-Bloomfield, All Cars Electric, October 2010
Harry Metcalfe's 50 Best Supercars: No. 26: Tesla Roadster Sport, The Sunday Times, January 2011
Fully Charged: Tesla Roadster Fully Charged, June 2010.
About Tesla
Tesla's goal is to produce increasingly affordable electric cars to mainstream buyers – relentlessly driving down the cost of EVs. Through the Roadster, Tesla has raised the standard of electric vehicles by producing a vehicle that doesn't compromise on performance, design or efficiency.
Tesla's headquarters are located in the heart of Silicon Valley, Palo Alto, California. The move to these headquarters allowed Tesla to co-locate different departments in one large and open office, which allows Tesla to create the synergy and efficiency necessary to move quickly with projects. In addition to corporate offices, headquarters houses engineering labs and a production floor where powertrain components - battery packs, the motor and transaxle - are built.
The zero-emission Roadster is the world's only electric supercar. Powered by a battery pack comprised of 6,831 lithium-ion cells, it accelerates from 0-60 in 3.7 seconds without a drop of gasoline. The Roadster is the only sports car that can be fully or partially charged with renewable energy such as solar, wind, hydroelectric or geothermal power. More than 1,500 owners are driving Tesla Roadsters in at least 30 countries and collectively have driven over 10 million electric miles.
Tesla's second car platform, the Model S sedan, will be available in mid-2012. Model S is the first premium sedan built from the ground up as an electric vehicle.
Tesla sells cars directly to customers online and from a retail network of 17 stores and counting in North America, Europe, Asia and Australia. Tesla stores are designed to make the customer feel welcome and comfortable, and explore the technology behind electric vehicles and the reality of owning one, revolutionizing the customer experience of a car purchase and ownership.
Many Tesla stores include a service area where customers can get recommended annual inspections and software upgrades on their cars. Regardless of where customers live, Tesla's mobile service technicians, Tesla Rangers, make "house calls" to owners' homes and offices to give customers peace of mind and unparalleled convenience.
In May of 2010, Tesla purchased the Tesla Factory in Fremont, California. The 5.5 million square-foot Factory is larger than Tesla's current needs for Model S and is an investment in the company's future. The Factory offers space to build a third-generation, mass market electric car. Currently, Tesla is focused on bringing in new talent, retooling the facility, and creating the most energy-efficient and innovative automotive production process in the industry to build the automobile of the 21st century.
Tesla partnered with Daimler AG in 2007. Tesla produces battery packs for Daimler's electric Smart car and Mercedes A-class E-cell. In May of 2010, Tesla announced a similar partnership with Toyota. Tesla is designing and building the powertrain for Toyota's upcoming RAV4 EV.
Panasonic, the world's leading battery cell manufacturer and a diverse supplier to the global automotive industry, also partnered with Tesla in 2010. Tesla currently uses Panasonic battery cells in its advanced battery packs and has collaborated with Panasonic on the development of next generation battery cells designed specifically for electric vehicles. While Tesla's current battery strategy incorporates proprietary packaging using cells from multiple battery suppliers, Tesla has selected Panasonic as its preferred lithium-ion battery cell supplier for its battery packs. Panasonic also joined Daimler and Toyota as an investor in Tesla.
Tesla History
Tesla was incorporated in 2003, and product development began in 2004.
South African-born entrepreneur and Tesla co-founder Elon Musk has overseen Roadster product design from the beginning. Musk recruited JB Straubel as Chief Technology Officer, and the team created the proprietary technology of Tesla's electric powertrain.
The Roadster prototype was introduced to the public in July 2006. It was the cover of Time Magazine and "Best Inventions 2006" winner. Tesla produced more than two dozen prototypes before serial production began in February 2008. Tesla opened its first retail showroom in Los Angeles, California, in June 2008. Since then, Tesla has opened 16 more stores and sells cars directly to consumers online.
In May 2009, Germany's Daimler AG, maker of Mercedes, acquired an equity stake of $50 million. Tesla builds electric powertrain components for electric versions of Daimler's Smart city car and for the Mercedes A-Class.
In June 2009, Tesla was approved for US$465 million in interest-bearing loans from the United States Department of Energy. The funding, part of the US$8 billion Advanced Technology Vehicles Manufacturing Loan Program, supports engineering and production of the Model S sedan, as well as the development of powertrain technology that Tesla sells to other automakers. The Department of Energy loan program was created in 2007 during the George Bush administration in order to get more fuel-efficient vehicle options to U.S. consumers and to reduce America's dangerous dependence on oil.
In May 2010, California Governor Arnold Schwarzenegger announced that Tesla and Toyota formed a strategic partnership to collaborate on engineering and manufacturing. Toyota purchased US$50 million in Tesla common stock. The companies' first platform collaboration is an electric version of the RAV4 SUV, which Toyota unveiled at the 2010 Los Angeles Motor Show.
Like many Silicon Valley technology startups, Tesla was initially financed by venture capitalists and individual investors. In June 2010, Tesla launched its initial public offering on the U.S. NASDAQ stock exchange under the symbol TSLA. The IPO raised US$226 million. Tesla was the first American car maker to go public since Ford Motor Company in 1956.

Tesla Press Contact
Please direct all press inquiries to press@teslamotors.com