Lands End to John O'Groats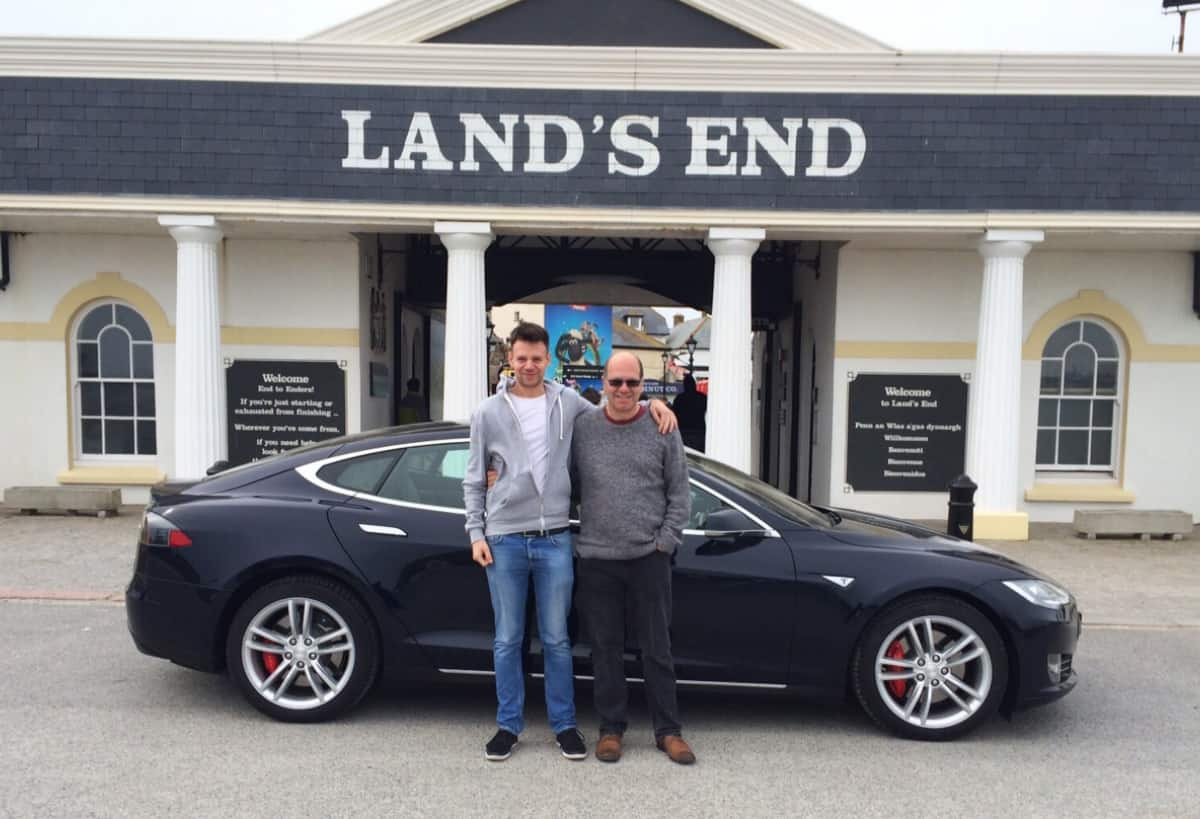 We did it!  A couple of weeks after delivery of my Tesla P85D, my son Ben and I set off from Lands End for John O'Groats to set a new record time utilising the Tesla Supercharger network. We wanted to demonstrate that driving an electric car is as straightforward as driving any other car and in many ways better.
We believe we have now set the record for Lands End to John O'Groats in an electric car in 19 hours 46 minutes including charging time. On our way back we did the return journey in a much shorter time of 18 hours 53 minutes and we believe we have also set a record for least time spent charging - 3 hours 34 minutes.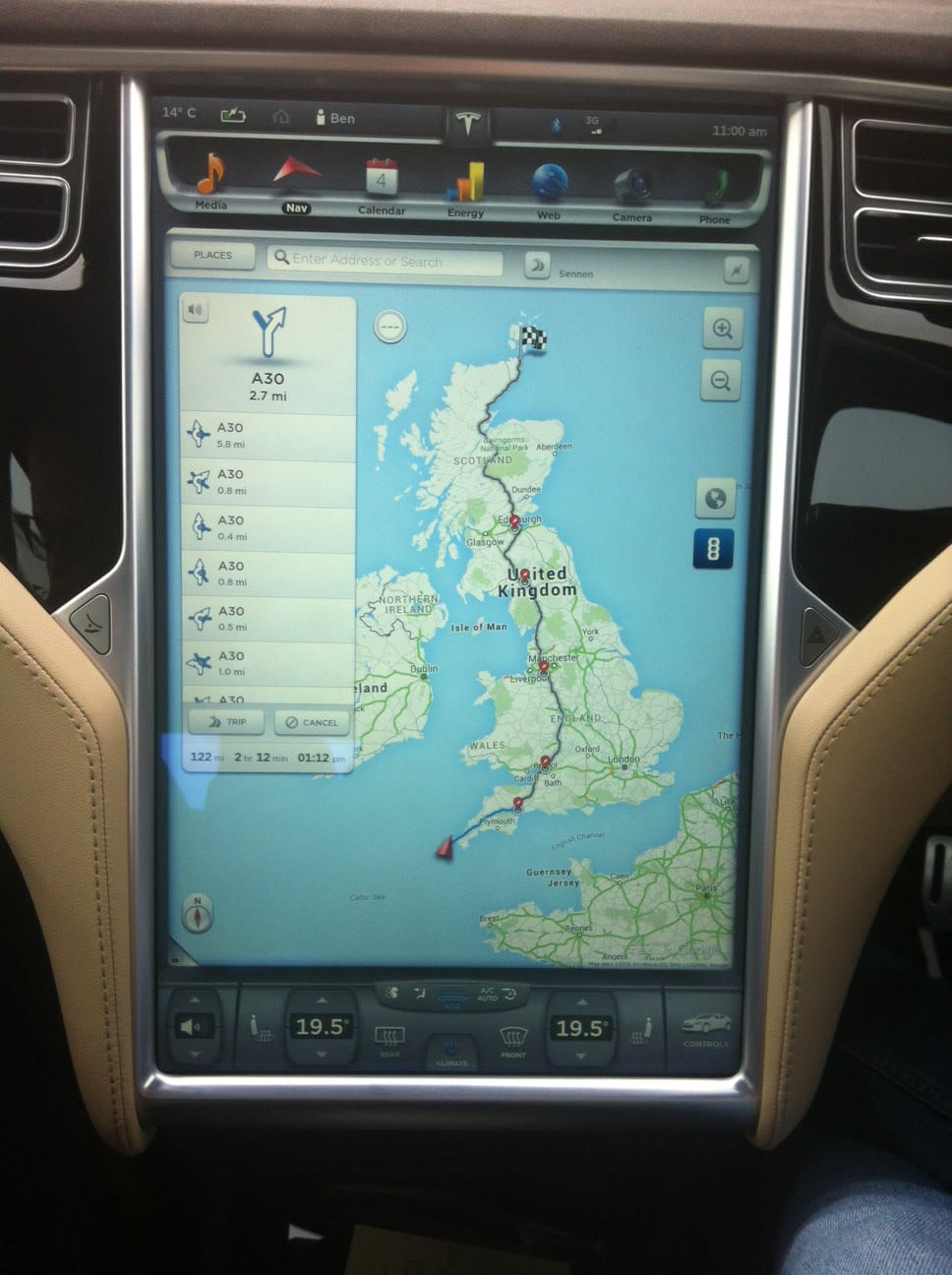 We made use of range mode throughout the journey to increase the efficiency and made use of eco climate control to ensure a comfortable driving environment. Driving long distance in an electric car doesn't mean giving up that comfortable environment – quite the opposite in Model S. We made extensive use of Traffic-Aware Cruise Control. This meant we could maintain a safe and optimum speed. The speed limit warning was very useful to automatically identify the governing speed limit.
Thanks to the superb drivetrain, the Model S proved to be able to cruise more comfortably and often in near silence, allowing whoever was a passenger time to rest!  Similarly, through the use of the adaptive systems/ driver assistance features our driving fatigue was minimized – a key safety benefit allowing both of us to focus more on the road ahead.
To make sure that we were adhering to driving guidelines, we took alternate turns at driving between Superchargers. The long range of the Tesla meant that there was no need for additional stops and when we reached the next Supercharger, we inevitably needed a break for food, drink etc. My son even set up a dedicated 'sleep' driver profile to adjust the seats and steering wheel to be out of the way to allow for a quick lie down!  Due to the short time charging using superchargers, this was only used ahead of the trip, however it demonstrated the space in and versatility of the car.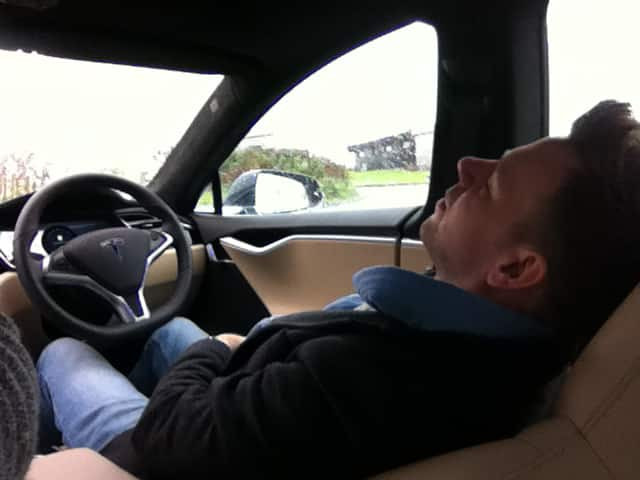 The performance of the car was quite remarkable, even within speed limits, an unfamiliar road is often a cause for an overcautious approach, however the reassuring handling and superb grip gave a great feeling of confidence, in all weathers.  The very well judged regenerative braking meant there was very little need to call on the powerful brakes and also meant the car maintained speed across hills so smoothly that it was often a surprise to notice the altitude changes along the route.
The Superchargers are easy to use, simply plug in the charger on arrival and unplug before setting off. Our first stop was the Supercharger at Exeter, followed by Birmingham, Warrington, Gretna Green, Edinburgh and finally a public charging point at Tain. All at zero cost, both for our wallets and the planet.  Our only regret with the Model S was that Auto Pilot was not available at the time – it would have certainly been another great Tesla innovation on the trip.
We were most grateful for the enthusiastic following remotely by friends, family and other Tesla owners during the journey.
This was the third of my challenges this year, the first of which was a much more uncomfortable drive and much slower in a small electric car most of the route, the second was to cycle from Lands end to John O'Groats and in the third we think we have set three records. I am delighted to report that as a result, over £1000 has been raised for The Alzheimer's Society.